Newspaper review: Football match-fixing and migration make headlines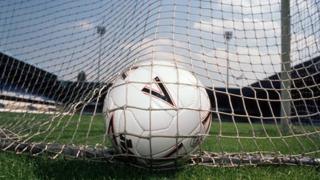 The Daily Telegraph claims to have unearthed British football's "biggest match-rigging scandal for decades", with its lead story that six men have been arrested by officers from the National Crime Agency.
It publishes the results of a series of meetings covertly recorded by an undercover investigator, who met one person who claimed to be able to rig games and set up windfalls worth hundreds of thousands of pounds to those placing bets using his inside information.
For many of the other papers, migration remains the big issue. On its front page, the Daily Express pictures editor Hugh Whittow in Downing Street - surrounded by staff - proudly displaying mail sacks stuffed full of petitions it says were signed by 150,000 readers demanding the prime minister stop the lifting of visa restrictions on Romanians and Bulgarians arriving in the UK.
Meanwhile, the Daily Mail says Brussels is facing "open revolt" over its no-borders policy, with France and Germany backing David Cameron's stance of limiting unemployment benefits.
Inside, its home affairs editor James Slack picks through the PM's measures aimed at deterring "benefit tourists" to distinguish between the rhetoric and reality. Meanwhile, the Times compares the relative generosity - or otherwise - of benefits systems in Britain, France, Germany, the Netherlands, Spain and Sweden.
Divided opinions
Daily Express columnist Leo McKinstry counters the "fashionable propaganda from the metropolitan elite that all immigrants come here to work" by arguing: "Immigrants are far more likely than the indigenous population to be jobless and on welfare."
Historian Michael Burleigh's commentary in the Daily Mail picks up on Hungarian EU Commissioner Laszlo Andor's warning that Britain could become the "nasty country" of Europe, arguing that Mr Andor's homeland is "anti-semitic and vile to the Roma". Mr Burleigh adds: "Don't dare lecture us, Mr Commissioner."
Economist Paul Collier, in the Daily Telegraph, describes the free movement of peoples within Europe as "a great achievement... rooted in the ethical principle of reciprocity". But he adds: "An exodus of [the south-eastern European] workforce to Britain is a long way from practical reciprocity."
The Daily Mirror views David Cameron's recent announcements on the matter nothing but "shameless tub-thumping motivated by base politics, not hard facts". It adds: "The blame for lower family incomes isn't found in the house in your street occupied by an EU migrant, Responsibility lies in Downing Street." Similarly, the Independent's editorial argues the prime minister "should not be stoking fears about immigration" with a "strategy rushed through to counter today's headlines".
And David Aaranovitch, in the Times, sees politicians cynically pandering to people's prejudices and misplaced assumptions and only serving to play into UKIP's hands by creating more concern about the issue. Referring to recent announcements on migration and green levies, the Sun's Rod Liddle says the "PM's shape-shifting is all down to UKIP".
The cartoonists pick up on this, with Peter Brookes in the Times imagining Nigel Farage as Jon Bon Jovi, turning to David Cameron - drawn as Prince William on stage with the rocker at Tuesday's charity gala - and saying: "I'll lead, you follow." The Telegraph's Adams has the politicians in a pub, supping Border Ale, with a laughing Farage way ahead of his rival in a drinking competition.
Stink over regulations
As if Brussels wasn't enduring enough negative headlines, its rules have upset cheesemakers, according to the Times. Tom Whipple reports from the World Cheese Awards, in Birmingham, where one judge complains: "They're not letting all the cheeses in."
EU restrictions on dairy products mean that: "Uniquely in its 25-year history, there will be no cheeses from South America." Likewise, the Japanese and South Africans have been offended by the British government upholding rules which barred products from regions where milk-handling "fails to meet the necessary standards", the report says.
UK rules, meanwhile, have provided a fillip to German luxury carmaker Porsche, the Guardian reports. Apparently, anyone considering shelling out nearly £90,000 on its Panamera S E-hybrid will qualify for a £5,000 discount thanks to a programme to encourage sales of low-carbon transport. University of Bangor economist Dr Neal Hockley calls it a "terrible policy".
The cash saved through that sort of markdown would come in handy in South Tyneside where, the Daily Express reports, Joe Woods has been left exasperated by a hard-up council's refusal to accept his offer of a £5,000 interest-free loan to repair the 80 potholes on his street.
'Greed is good'
Boris Johnson didn't just deliver the annual Margaret Thatcher Lecture, according to the Guardian, he claimed the former prime minister's mantle by declaring inequality to be essential to fostering a "spirit of envy".
The paper interprets his call for the "Gordon Gekkos of London" to display greed to promote economic growth as the London Mayor "positioning himself as the natural successor to David Cameron".
The Daily Mail highlights Mr Johnson's remarks about IQ being relevant to a conversation on equality and takes the message that "tackling economic inequality is 'futile' because some people are born too stupid to ever get to the top".
However, Mr Johnson said he did not want a return to the "Loadsamoney heartlessness of the 1980s" and that bright pupils from poor backgrounds could be helped by the reintroduction of selective education in the form of a successor to grammar schools, reports the Times.
It says his speech will "inevitably be interpreted as an attempt to bolster his popularity among the Tory grassroots".
Making people click
Daily Mail: I'm A Celebrity's Kian Egan has emotional reunion with wife Jodi Albert after his team win the Halfway Holiday challenge
Daily Mirror: Family Guy death: Brian Griffin fans disappointed as nothing happens after countdown ends on briansannouncement.com
The Guardian: Sperm whale explodes as man tries to open stomach - video
The Times: How the middle class became the Lidl class
Financial Times: Biden to raise China's 'unsettling behaviour' in visit