Queen's Baton Relay: The Flag Man of Antigua and Barbuda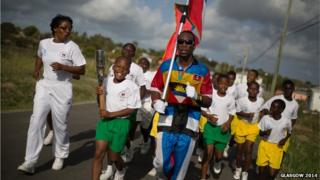 I have had the chance to meet some colourful characters on the amazing journey of the Queen's Baton Relay so far, and Hilson Joseph is one of the most memorable yet.
Starting at 6.30am, Hilson - known throughout his country as 'Flag Man' - completed 12 hours of the relay in Antigua, through the streets of the capital St. John and across the island.
Dressed in an amazing bespoke costume and carrying a large Antigua and Barbuda flag, Hilson completed this impressive feat of endurance with ease.
I asked Hilson why he was doing it. "I am a carnival lover", he simply explains while grinning.
"It's love - I love to show my county to the world, this beautiful flag here.
"We are beautiful people, we want everyone to share our lovely beaches and sunshine."
Hilson goes on to explain that he is actually a carpenter, but takes lots of time off work to turn up and support every single sporting event on the island that he can.
It started with cricket, then football and now every national game is in Hilson's sights.
When it comes to Hilson's incredible outfits, he designs each of them and has them made by a friend who is a seamstress.
His attention to detail is wonderful, with the national flag hanging from his earring and Antigua and Barbuda scribbled down the side of his sunglasses.
When it comes to the Commonwealth Games, Antigua and Barbuda will need every bit of support having not won a medal during the seven occasions times they have competed.
"I would love to go to Glasgow - that would be a dream," added Hilson.
Whether he manages to bring some Caribbean colour to the Games or not, he wants the Antigua and Barbuda team to take his message on board.
"I want them to do their best and leave the rest.
"Do a good job for Antigua and Barbuda, and make us proud.
"I am doing it, so they have got to do it for me too. Bring home a medal for us, for the first time."
If Antigua and Barbuda's number one sports fan makes it to Scotland, he will certainly stand out from the crowd.