Queen's Baton Relay: Commonwealth Youth Games in sight for Saint Lucia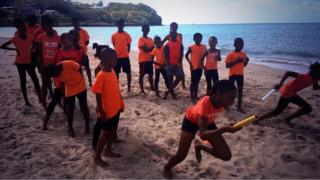 "I want to become the world's fastest man," comments 11-year-old Miguel Charlery, a member of the Rockets Athletics Club in Saint Lucia.
"I would like to make it to the Commonwealth Games and impress everyone. And I would hope to go the Commonwealth Youth Games! It will be great to have a big championship in my own country."
The first step of Miguel's dream of athletics stardom may come true in just three years.
The 2017 Commonwealth Youth Games are coming to the sunny shores of Saint Lucia. They have been held just four times, compared to the Commonwealth Games which will be celebrating their 20th anniversary at Glasgow 2014.
Up to 1000 teenagers, aged between 14 and 18, will compete in eight sports over the space of a week.
Throughout the journey of the Queen's Baton Relay around the Commonwealth, people have talked about the Isle of Man Commonwealth Youth Games which were held in 2011.
It has put that small island on the map with young athletes and sports administrators.
The teams may remember the Games for the horrific weather, with many arriving by boat after flights were cancelled.
Joyce Hall, a coordinator of the Games, recalls how that experience added to the great excitement and atmosphere. While Saint Lucia is almost identical in size to Isle of Man, around 600 sq km (372 sq miles), the Caribbean weather is unlikely to pose similar problems!
Joyce recalled: "I honestly don't believe the island has seen anything like it before. I remember my daughter calling me and she said she has never seen so many colours.
"All the athletes had gone out in their different coloured tracksuits. She said it was fantastic to see. Because the athletes were so very young, they brought something a little special to the island. It was a fabulous event to hold."
Richard Peterkin, the International Olympic Committee member from Saint Lucia, explained to me that there were not a lot of people bidding when it came to the Caribbean's turn to host the Commonwealth Youth Games, which is surprising when you compare Saint Lucia's sporting pedigree to its close neighbours of Trinidad and Tobago or Jamaica.
But Saint Lucia were keen for two main reasons. They wanted to show they can host a major international event, and to have a long term programme that will involve youngsters.
Richard explained: "The Commonwealth Youth Games has now proved to a very important stepping stone to start senior athletes at that younger stage."
Shawn Edward, the minister who is in charge of Youth Development and Sports on the island, admits Saint Lucia have not done well at the senior level with no Olympic medals and only a few Commonwealth bronzes to show for their efforts.
As well as developing a new generation of local athletes, Shawn also sees the games as a chance to introduce his national sport alongside the sports of track and field, swimming and netball.
"Cricket remains the lifeblood for the people of the Caribbean," he said.
"The Commonwealth Youth Games incorporates a range of sporting disciplines and so for me personally as a former national cricketer I am going to do my best to ensure that cricket is part of the menu."
Teenage swimmer Thalia Bergesse is one athlete who could benefit from the Commonwealth Youth Games. While she will be over 18 in 2017, meaning she will be too old to compete, she remains excited about the Commonwealth Youth Games and the promise of Saint Lucia's first 50m pool, something that will benefit swimmers of all ages.
This legacy also includes a complete redevelopment of the national track and field stadium. If all goes well, Thalia will still get to cheer on her younger brother and his friends at Saint Lucia's first major sporting event.