Queen's Baton Relay: Trinidad and Tobago's champions aim for more medals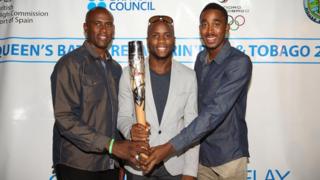 Emmanuel Callender and Jehue Gordon are among the superstars of Trinidad and Tobago athletics and hold a fistful of Olympic and World Championship medals. As the Commonwealth Games approach the pair are focused on returning to the podium for more success.
Gordon is the current 400m hurdles world champion following his victory in Moscow last year. Callender is a two-time Olympian securing both silver and bronze in the Men's 4 x 100 m relay.
The short stay of the Queen's Baton Relay in Port of Spain was perfect opportunity to find how they are preparing for Glasgow 2014.
How important are the Commonwealth Games for Trinidad and Tobago?
Emmanuel: It's very important for me. I started running track at a late age, at 21. I want to attain individual medals and get as much as I can out of sport and build a name for myself. I hope to show other youths that you can inspire to do great things no matter what your age and no matter how far behind people may say you are in terms of technique and strength. I am just happy, this Commonwealth I will be doing the same.
Juhue: It is my first Commonwealth Games, I want to have fun, I don't want to put too much pressure on myself because I am the World Champion. I want to embrace it. Every athlete wants to win a medal, a gold medal especially. Whatever happened in 2013 already happened, somebody else could come up and do something spectacular.
Emmanuel you began your athletics at late age, how did you still reach the top level?
Emmanuel: I wasn't really focused. I was hanging out with friends, some bad company back then. One day I had a race with a friend and he said you have all this speed, come out and take a try at track. I started to realise these guys, the bad company, don't really have anything positive to offer, so I was looking for something that I wanted to hear. I like doing good things. I got into track and there everyone was aspiring to do something and to be great. I was supposed to go into the military but I also had an option to go to Glen Mills in Jamaica and train with Usain Bolt. I prayed and when I got up the next morning my mind was made up. I went to Jamaica and from then it just went on. I got into it and just kept going.
At the age of 20 Jehue you became 400m hurdle World Champion, take us back to the final in Moscow last year, is that a race you felt you could win from the start?
Jehue: There were a lot of signs that I had what it took to win that gold medal. I started doing some crazy stuff in practice that I just couldn't believe. I normally do 13 steps to the sixth or seventh hurdle, but I was comfortably doing 13 steps to the eighth, so I knew it was about to go down! And I had no pressure, I was so relaxed. I was on the line singing, jumping and dancing. The burden was on Dai Greene, Felix Sanchez and the big American Michael Tinsley, and I was able to be me so I could execute the best race of my life.
Emmanuel, what are your memories of the 2010 Commonwealth Games in Delhi?
Emmanuel: I was going into the finals as favourite, something happened in the finals and I cramped up, it cost me a medal. I came fourth, so I am going back to the Commonwealths to try again.
It was really hot in India, I was a bit dehydrated and I didn't even know it. I can't even describe the feeling I was getting, winning the semi-finals and going into the finals as the favourite, then my doctor said to drink more, 'no, I am good, I am good' I replied, and that cost me. When I went to the start I suddenly started to cramp up. I was praying really hard saying please god, not now! I did another run through, and was still feeling it. Then I went back into the blocks and was in the set position, and felt it again, but then I thought I am not going to think about it and from the time the gun went off I thought I had got into the race... and then my hand just locked, and when I finished the race my hand was just stuck.
Jehue now you are the World Champion, the Commonwealth Games will be very different event for you this time you will be the marked man.
Jehue: I will speak to my trainer and I am sure she will come up with something for me. I am a fun person so you will probably see me on the line laughing and jumping. I will try to embrace the Commonwealth Games.
Look out for both Emmanuel and Jehue at the Commonwealth Games in Glasgow. The Men's 100m heats begin on Sunday 27 July followed by the 400m hurdles on Tuesday 29 July.
The Queen's Baton Relay is the main attraction in the run-up to Glasgow and is travelling the 70 nations and territories of the Commonwealth before it takes a key role in the opening ceremony of the Games.