Queen's Baton Relay: New Year's Day, Freetown, Sierra Leone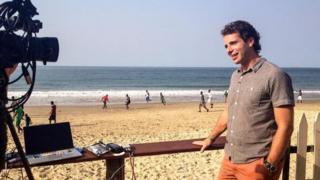 At 9am on New Year's day I started 2014 with a live broadcast from the promenade in Freetown. As far as I could see along the beach young boys were playing football.
Game after game in either direction along the coast. The ocean was disregarded as a sideline, the ball was kicked in and out of the water with play continuing the whole time.
Later in the day after the official celebrations of the Queen's Baton Relay had finished, I decided to start the year with a bit of exercise and headed for a run along the beach. I found myself constantly ducking and diving around the thousands of football players who were now joined by New Year revellers along the 5km of sandy shore. By the evening it was utterly impossible to kick a ball, the entire beach became mobbed by the biggest beach party that I have ever seen. I'm guessing that tens of thousands were out to celebrate. And celebrate they did, long into the night!
I wandered around, soaking in the atmosphere and bumped into a man who introduced himself as Ibrahim Barrie. Ibrahim was there with his young daughter and also his pony, which he had brought along to give children a pony ride along the surf. He explained that this incredible spectacle only happened at Christmas, New Year and Easter. At these special occasions, the whole city of Freetown knew to leave home and to head for the beach. I can't imagine a better way for an entire city to come together and celebrate the start of 2014.
Gallery: New Year in Sierra Leone