Queen's Baton Relay: Snapping life and collecting memories in Niue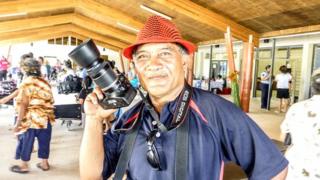 Bill Vakaafi Motufoou, known fondly as BV, has an unusual hobby. Each Friday, when the plane lands on the tiny Pacific territory of Niue he photographs everyone who arrives and departs.
He also goes to every wedding, funeral, birthday party, in fact almost any event on the islands. Which is possible with a population of less than 1500 people. For the last four years he has been sharing this impressive catalogue of nearly 150,000 photos on his Facebook page.
I caught up with Bill at the airport, while he darted around making sure he photographed everyone, and asked why he is making this incredible effort.
'With so many Niueans living abroad this is for everyone to keep in touch, to know who is coming and who is going!'
Every local coming through the airport arrivals seems to know what to do: You collect your bags, wheel your trolley outside, meet your waiting family and friends, and then line up to have your photo taken by BV. A few try to keep their head down, but Bill quickly catches them and gets the snap he needs!
Everyone I spoke to was a huge fan of BVs Facebook page. It has become more important than the local newspaper as a way of keeping up to speed with friends and families lives. On an island this size, almost everyone is friends and family! With his photos in such high demand, I asked why Bill didn't do this professionally?
'I can't do this as a job or to sell the photos. Many people have said I should, but I won't. It is just for fun, and for the people. If I start charging, then people would start complaining about me taking their photos.'
I asked if there were ever problems snapping people in public?
'Sometimes the young people leave comments and get into arguments. But I have a system, after one warning I turn the photo sideways, after another warning I turn it upside down. If there is still bad comments then I delete the photo!'
Bill explained how helping families is what keeps him motivated. 'For example, there is a lady who studies at South Pacific university in Fiji, but her daughter is here with her grandparents. I post pictures of her daughter, so she can see her. Sometimes doing all the requests is a pain...' Then he smiles, '...but it is good fun.'
Since BV first picked up a digital camera he has needed a few replacements to his equipment. Every new bit of kit has been funded by his fans. Right now, his laptop is broken, and the community is pitching in to make sure he has one by the New Year, so they can keep up with the comings and goings in Niue in 2014.
Moved Permanently
The document has moved here.