Queen's Baton Relay: Asia highlights image gallery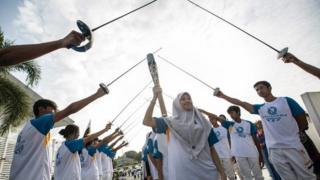 Gallery: The Queen's Baton Relay in Asia
Look back at the first leg of the Queen's Baton Relay. The route in Asia covered eight nations and territories in 20 days and travelled over 17 thousand miles.
The first countries on the tour were India, Bangladesh, Pakistan and Sri Lanka. The baton then went on to visit the Maldives, Singapore, Malaysia and Brunei.
The Queen's Baton Relay began at Buckingham Palace on the 9 October 2013 on a 288 day tour commonwealth ahead of the games in Glasgow 2014.
As one chapter ends, another one begins. Arriving yesterday in Perth, Australia signalled the start of the next leg of the relay in Oceania.