Queen's Baton Relay: Welcome to... Australia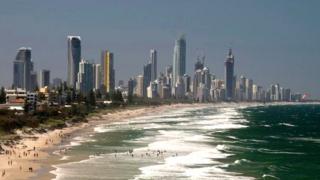 The Queen's Baton Relay has arrived in Australia, one of the largest countries of the Commonwealth.
The baton will travel between Perth, Gold Coast, Canberra, Townsville and Cairns over four and a half days.
The city of Gold Coast in south-east Queensland will be the next host of the Commonwealth Games in 2018.
The Gold Coast games will be the fifth time Australia has welcomed the event to its shores with Sydney (1938), Perth (1962), Brisbane (1982) and Melbourne (2006) all having had the honour.
At the 2010 Delhi games, Australia topped the medal table with a total of 177 - including an impressive 74 golds.
Don't forget, you can still watch the first BBC documentary about the launch of the Queen's Baton Relay and its journey around India and Bangladesh on the BBC iPlayer (UK only) until 3 November.
Baton weather for Australia
Sunshine in store as the Queen's Baton Relay takes in Australia. John Hammond has more.