Queen's Baton Relay: Wedding Celebration in Malaysia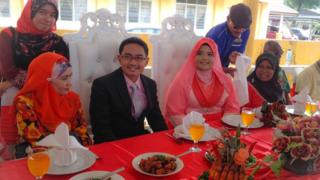 Kampung Baru, meaning Little Village, is a community of 17,000 people within Malaysia's capital Kuala Lumpur. Experiencing a wedding celebration in the village was a chance for me to see what life is like in this traditional community.
Surrounded by skyscrapers, it has so far resisted being overrun by the metropolis, despite their land being worth over $1.6bn. The juxtaposition of this old world village with modern Kuala Lumpur all around it is striking.
Weddings are always great occasions. But as a wedding crasher, albeit a well behaved one, I had no idea what to expect at the marriage of Siti Jumari and Syed Shafie. I am pleased to say that I could not have felt more welcomed. The celebrations were colourful and full of joy and happiness.
Around 1000 guests were expected to come and go at some point during the day-long festivities. Tina Suip, the bride's Aunt explained that she had planned the feast ordering of 100kg of rice and 100 chickens.
She then quickly put me to work helping hand out wedding favours of eggs to the arriving guests.
My reward for carrying out this task was to be treated to a plate of Nasi kandar. This was a delicious herb rice with variety of curried meats. Unusually for a Malay dish there is no coconut, but instead lots of tomato which gives a wonderful sour taste.
The amazing flavours come from different combinations of pine, curry and coriander leaves, turmeric, cinnamon, star anise, cardamom, soya sauce, palm sugar, garlic and ginger.
Having been on the road for a few weeks now it was a nice change of gear to spend time with the people of Kampung Baru and feel part of the community and the celebrations for a short while.
Moved Permanently
The document has moved here.