Queen's Baton Relay: Welcome to… Malaysia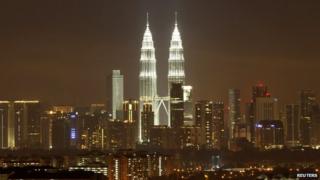 The second south-east Asian country to receive the Queen's Baton is Malaysia.
The Queen's Baton Relay will spend two days in the country, with 2,000 runners taking part in an organised race as part of the arrival celebrations in Kuala Lumpur.
The capital city was the host of the Commonwealth Games in 1998. Malaysia secured a total of 36 gold and silver medals, their largest ever total at a games.
Visit the BBC Malaysia profile page for more information about the economic success of the country.
You can follow Mark Beaumont's journey around the Commonwealth on Twitter @BBCMarkBeaumont or on our Facebook page.