Queen's Baton Relay: Welcome to... Sri Lanka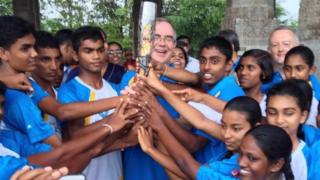 Sri Lanka is the first island nation that the Queen's Baton Relay will visit on its journey around the Commonwealth.
The country is known for its natural beauty and a brutal 25-year civil war which ended in 2009.
Sri Lanka won two medals at the last Commonwealth Games in India, with Chinthana Geetal Vidanage (69kg) and Anton Sudesh Peiris Kurukulasooriyage (62kg) winning silver and bronze medals respectively and taking home some precious metal from the weightlifting competitions.
For more information on Sri Lanka, including a timeline of the nation's key events and a profile of its leaders, visit the BBC country profile page.
Sri Lanka Facts
Sri Lankan marathon runner Anuradha Indrajith Cooray has represented his country at the 2004 Olympic Games in Athens and at the London games two years ago. When he is not running, Anuradha works in a branch of Greggs the bakers in Aylesbury, Buckinghamshire.
Michael Ondaatje, the author of Booker prizewinning novel The English Patient, was born in Sri Lanka.
Former Sri Lankan leader Sirimavo R D Bandaranaike became the world's first female prime minister in 1960. She also held power between 1970-77 and 1994-2000.
For all the latest from the BBC's Mark Beaumont, who is shadowing the baton's journey around the Commonwealth, you can follow him on Twitter @BBCMarkBeaumont and on our Facebook page.
Moved Permanently
The document has moved here.