Queen's Baton Relay: Welcome to... India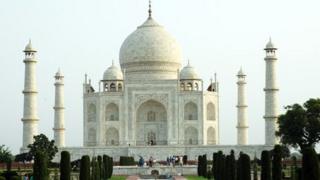 The Queen's Baton Relay for the Glasgow 2014 Games will make the first stop of its journey around the 70 nations and territories of the Commonwealth in India.
India is the world's largest democracy and second most populous country.
The last Commonwealth Games were held in Delhi in 2010, and the baton will travel to the Taj Mahal and New Delhi before leaving for Bangladesh.
If you would like to know more about India visit the BBC country profile page, while all the latest news and features on the BBC News India index.
India Facts
Here are some interesting facts about one of the largest countries in the Commonwealth.
At the 2010 Games, India won most of its medals in shooting, wrestling and weightlifting. Athletes in these three sports picked up 57 of India's 101 medal haul.
The first Indian athlete to win Commonwealth Games athletics gold was Milkha Singh - 'The Flying Sikh' - who has been portrayed in the movie Bhaag Milkha Bhaag. He achieved the feat at the 1958 Cardiff games in the 400m, the same Games that saw the first Queen's Baton Relay.
India is thought to be the birthplace of chess, with the game emerging from a 6th century pastime called chaturanga. Yoga lovers will also be familiar with the name, with chaturanga dandasana a type of push-up.
India has some of the earliest accounts of cosmetic and reconstructive surgery on the planet, with skin grafts taking place 800 years before the birth of Christ.
India continues to dominate the world of film, with UNESCO concluding 1,255 movies were produced in India in 2011 compared with 819 from the United States of America.
India is the world's biggest producer of bananas. According to the UN, just over a quarter of them come from the country.
Presenter Mark Beaumont left Scotland on Thursday to follow the baton around the Commonwealth, he blogged for the BBC about his excitement for journey ahead.
You can follow every step of his journey on Twitter @BBCMarkBeaumont and on our Facebook page.
Moved Permanently
The document has moved here.