Queen's Baton Relay: The Launch: Excitement and anticipation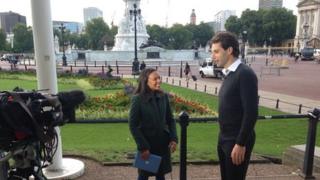 The Queen's Baton Relay Launch starts at 10:45 BST on BBC One & BBC News. There will be live updates on BBC Radio 5live and online there will be a live page from 10:00 - 12:00 BST.
Buckingham Palace, at first light, is a spectacular sight. This morning, there were only a few lights on, but outside there was already a lot of activity. Today is the official launch of the Queen's Baton Relay and the stage is set.
All cameras, lights and microphones have been focused all morning as the atmosphere builds and the stars start to arrive. A kilted Sir Chris Hoy and the first baton bearer Allan Wells MBE have joined myself and many others for their thoughts ahead of the main event which starts at 10.45am on BBC One and the BBC News Channel.
After over a year of planning on my part and that my team at BBC Scotland, I can't believe that we're actually here at the start. I am hugely excited about this journey around the globe that leave the UK tomorrow. It will be May before the baton returns to Scotland in the final countdown to the opening ceremony.
Moved Permanently
The document has moved here.