Queen's Baton Relay: How do you pack for 70 countries?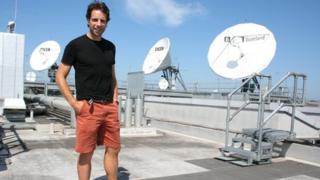 I have spent much of my adult life travelling the world but I have never considered trying to visit the entire Commonwealth in a single journey. If I had, I probably wouldn't have tried to do it in little over seven months.
Yet here I am, imagining what it will be like to travel over 118,000 miles in 288 days - nearly five times around the equator. Right now, I am trying to decide what to pack.
To kick things off, we should all know that the 20th Commonwealth Games are coming to Glasgow in the summer of 2014. There has never been a better reason to explore the modern Commonwealth and get a sense of what holds a third of the world's population in this historic union.
The baton relay is a Commonwealth tradition that started in 1958 growing in size and scale with every Games. This journey for Glasgow 2014 visits all 70 nations and territories and will tour the UK when it returns.
Since announcing my plans to join the BBC's team covering the Queen's Baton Relay, the most commonly asked question has been 'are you cycling?'. This is an appealing prospect, until you realise that many of the destinations are islands and that a pedal-powered journey on this scale would take many years. So I am leaving my bike at home this time.
However, there are 17 sports at Glasgow 2014 from athletics to aquatics, wresting to weightlifting, and I will be trying my hand at some of these as I meet many athletes from around the Commonwealth who are making their final preparations before the Games.
The incredibly diverse tapestry of cultures and people that make up the modern Commonwealth is something that I cannot wait to explore and broadcast. This blog is the hub for the BBC's coverage of the entire Queen's Baton Relay and you can also follow through Twitter, Facebook and on TV and Radio.
The official and very fitting start to such a grand journey will be live from Buckingham Palace, on Wednesday 9th October, when HM the Queen seals and places her message to the Commonwealth inside the baton. From there the baton relay, and so the first leg of my journey, begins bound for India, Bangladesh, Pakistan, Sri Lanka and beyond.
My hope is that this global journey will be inspiring, engaging, fun, thought-provoking and if possible will make our world a little better understood. It is a hugely ambitious travel and broadcasting project as I will be presenting on programs including The One Show, BBC Breakfast, CBBC, BBC Radio 2 and across national and local BBC radio stations.
Thinking ahead to a journey that will race through Asia, Oceania, Africa, the Americas and finally Europe, there is a lot to plan for, and a lot to pack for. Relying on planes, trains and public transport, I can no longer revert to my usual adventure wardrobe of lycra and climbing gear.
And with so much broadcasting equipment, from cameras, to laptops and satellite kit, most of our baggage allowance has been nicked even before I start. Despite being Scottish and my excitement for Glasgow 2014, it may disappoint you to know that I am leaving my kilt at home - it is just too hot in the Pacific, plus it takes up half a suitcase!
Welcome to the Queen's Baton Relay. Welcome to the biggest adventure yet.
Watch The Queen's Baton Relay launch live from Buckingham Palace at 10:45 BST on Wednesday 9 October 2013 on BBC One and the BBC News channel also featuring on BBC World TV. Listen to live coverage on BBC 5live.