Me and my new brain: Brain injury in young people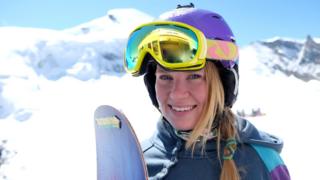 Snowboarding teacher Charlie Elmore had an accident on the slopes four years ago in which she sustained a traumatic brain injury. Since then, she has been learning how to live and think again.
Following a ten-year career as a snowboard instructor in Verbier, Switzerland, I woke up in a stroke unit after being placed in a medically induced coma. After an 11-metre jump, I'd had a bad landing. The doctors put me into a coma to protect my brain from further swelling. No one knew if I'd wake up and, if I did, how this would have affected me.
I don't know if I had intended to do anything impressive but I took off on a funny edge and the board wasn't straight. Upon landing, I threw my head back and after that everything is "gone". I sustained a traumatic brain injury even though I was wearing a life-saving helmet.
The last four years have been spent relearning the physical things some people take for granted - and prior to my injuries I did too - such as walking, eating and speaking. Life since then has been about accepting how to live with an invisible disability. It seems odd that something I cannot remember happening has had such a huge effect on my life.
There are only a few moments I recall from my six bed-ridden weeks. One of my memories is of my parents being at my bedside and me asking through heavy tears, "will I ever snowboard again?" This was before I had even learned how to walk again.
After extensive rehabilitation I was able to return to the mountains in under a year. For the last three winters I have been working voluntarily at schools in Switzerland that offer adaptive snowboarding lessons and I love this. It's my passion to spend my time with disabled people who want to get back out there.
I believe now that everything in life must be appreciated as it brings you to where you are. Injuries like mine can bring new things and reveal new talents - accept, adapt, embrace, I say. But although I once said that I love every effect that this has had on me, today I can say my perspective has shifted a little.
The effects of my injury have at times been horrendous, often making me feel isolated, miserable, incapable and broken. I have lost friendships because people haven't wanted to offer me the kind of patience needed to help a person who has sustained a traumatic brain injury. It's only in the last few months that I've been able to notice this as I am now in a relationship where I am loved and cared for. I've had new emotions to feel and have had to rediscover the inner me.
Life on a daily basis starts with what has been planned the night before.
I sit down with my partner and look at what needs to get done for the social enterprise I have co-founded recently to support athletes at the Paralympics and Invictus Games. It's a clothing label inspired by the 'hoodie' the paramedics cut off me, which I later knitted back together. This kind of pre-planning helps me to ensure I have less to think about on the spot and makes everything relatively normal.
---
Find out more
Brain Crash is an interactive documentary. Work your way through Callum's story of a near-fatal car accident that left him with a brain injury.
He has no memory of the crash so relies on other people's recollections to piece together the night his life changed forever.
Try it now on BBC Taster and hear Callum's story on Me and My New Brain on BBC Three, Tuesday 21 July at 21:00 BST
---
After breakfast I have physical training which is good as my partner is a rookie professional Super-G and downhill skier, so I get access to good training and development. And after assisting with ski lessons, I end the day with food, relaxation, time on the internet to communicate with friends and family, planning for the next day then sleep.
As I adapt more and more, things which negatively affect me now like my concentration, fatigue, memory, organisation, and interactions with co-workers will become easier.
I recently went back to Northwick Park Hospital where I spent time after my accident. While there I met 30-year-old Hannah Wick who started rehabilitation nine months ago. She was partially paralysed and sustained a brain injury when she fell and hit her head while out shopping. She was found by a passer-by lying on the pavement with a badly fractured skull.
She has mobility and control problems on the left-hand-side of her body. It has also caused a condition called Aphasia which means her language and speech can be muddled and repetitive. When I met her, she was repetitively saying "thank you" at the end of each sentence and was aware of how she has changed. "I want to speak like I'm thinking," she told me.
Before the accident she was a fashion buyer for a top London department store. Meeting Hannah gave me a stark reminder of just how extensive the effects of a traumatic brain injury can be, both mentally and physically.
She said that I look good and "like a normal person". Her recovery has proven much harder than mine, I'm told. I plan to stay in touch with her.
Some people do subconsciously tell me I look normal but, as I want to accept what's going on inside me, it is made more difficult if you have to compare yourself to this label of normality. I am defying such a label so that I can live life and be happy with me as I am. But although I've not let it define me, I see it as a defining moment.
Charlie Elmore features in the documentary Me & My New Brain which airs on Tuesday, 21 July at 21:00 BST on BBC Three as part of Defying The Label season about disabled people
Follow @BBCOuch on Twitter and on Facebook or email ouch@bbc.co.uk