Is it unfair to ban smoking in mental health hospitals?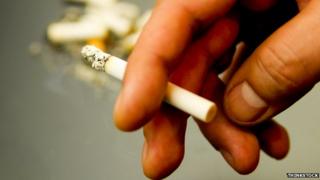 Smoking is banned inside NHS mental health units, but some hospitals have now said it won't be allowed in the grounds either. Is this fair?
"Smoking is all we did in our free time," says Kate - not her real name. She checked herself into a mental health unit when she was 18 because of a major depressive episode.
She didn't even smoke that much before she went in, but says it was the only way to socialise in there. Patients would get together after therapy sessions to discuss their lives. If you didn't join the smokers on the bench outside you ended up feeling pretty isolated, she says.
It was a community when most people were at the lowest times of their lives, and at the centre of it was smoking.
Mental health and smoking have long gone hand in hand - according to one report, 42% of all cigarettes smoked in England are done so by people with mental health problems. It isn't just the patients in mental health hospitals that smoke, many staff are or have been smokers.
"When I was doing my clinical exams, interviewing patients with mental health problems, I was even advised to take a packet of Benson & Hedges in with me to offer to patients," says Dr Jonathan Campion, consultant psychiatrist and director of public mental health at South London and Maudsley NHS Foundation Trust. His hospital imposed a ban on smoking in the hospital grounds and vehicles last year.
Smoking is already banned in every NHS mental health unit in England, under the terms of the Health Act in 2007, but it has been allowed outside most hospital buildings. Now some hospitals in England and Wales, and all hospitals in Scotland, are bringing in a blanket ban so there is no smoking in the grounds.
With smoking being banned in some prisons in England and Wales from next year, some mental health patients say they are being made to feel like prisoners. There is a huge difference, Kate says, between being in a prison for committing a crime, and being sectioned for a mental health illness.
She says a unit should operate as a temporary home. "You simply wouldn't ban somebody from smoking in their own living room," says Kate, "so why do it in a mental health hospital where my same rights should apply?"
One of the main concerns over banning smoking in prisons is the safety and security issues it may raise, whereas in mental health hospitals people worry that a ban would distract from treatment, and cause patients to leave prematurely, or even fail to seek help in the first place.
These types of concerns were anticipated and voiced by mental health campaigners in the build-up to the blanket ban at the hospital Campion works at, but a year on he says it is going well, and there have been no serious issues.
Twenty years ago smoking was allowed inside mental health hospitals, in all rooms except a single non-smoking room in many facilities, but now times are different, and a lot more is known about the harmful effects of smoking on both the physical and mental health of a patient.
Patients with schizophrenia who are treated with the drugs Clozapine and Olanzapine, and smoke, for example, have an increased metabolism so do not process the drug as well as those who do not smoke. Quit smoking and you can reduce this medication by 25% in the first week.
The rates of cancer, heart disease and respiratory diseases are almost double for people with schizophrenia, and smoking "may play a role" in the development of the mental health illness.
People with mental health problems have a reduced life expectancy of 10-20 years, and Campion believes that one of the reasons for this is that only a minority receive the right support to quit smoking. He says it's time for primary care, secondary care and NHS Stop Smoking Services to address this issue in a more co-ordinated way, alongside public health and commissioners, in order to improve the support that smokers with mental health problems are given.
But there is a big difference between encouragement and enforcement, says another smoker, Dorian.
She says if she were stopped from smoking on a unit, she would simply find somewhere else to smoke, even if this meant leaving the hospital site. If she were in a suicidal or manic episode, this could be dangerous - her nearest hospitals are on busy main roads.
Hospitals have a responsibility to treat the patient for the conditions they've admitted them for, she says, and to manage other conditions so as to maintain comfort. She thinks there should be an appropriate assessment of long-term versus short-term damage.
When in a mental health crisis, quitting smoking is an unnecessary stress to place on a patient, she says. It may lead to people discharging themselves against medical advice or not seeking help in the first place.
"If you are smoking 60 cigarettes a day of course you would be dreading the thought of not being able to smoke," says Campion. But treatments such as nicotine replacements do exist, Campion says, and can be effectively delivered with appropriate training and resources.
Ultimately people with mental health problems are unable to smoke at certain times, such as on a train, or during a flight, and therefore should be supported to stop smoking while in an NHS setting, he believes.
But Dorian knows how difficult this can be. She has a number of mental health illnesses including major depressive disorder, obsessive compulsive disorder and borderline personality disorder and the last time she ran out of cigarettes she spent the night shaking and crying because of the disturbance it caused. Smoking is a huge part of her established routine.
Research suggests that quitting smoking is better for mental health than anti-depressants, but reaching that stage is the difficult part. Enter a mental health unit and you have to go cold turkey, at least inside, and sometimes entirely. Add on top of this the fact that patients are in there because they are struggling mentally already and it is too much at once, Kate says.
"There are already so many rules in facilities," she says. "I had to be checked every 15 minutes by a member of staff, my tea and coffee had to be decaffeinated, banning smoking just feels like another rule, like you're being punished."
If you're going to tell people they have to stop smoking, you have to give them something else to do with their time too, she says. "There needs to be more entertainment, more exercise, so you're at least distracted. When socialising around the smoking bench is all you really have to do, you're going to do just that."
Follow @BBCOuch on Twitter and on Facebook or email ouch@bbc.co.uk