Dame Anne Begg: 'What do I do now?'
By Damon Rose
BBC News, Ouch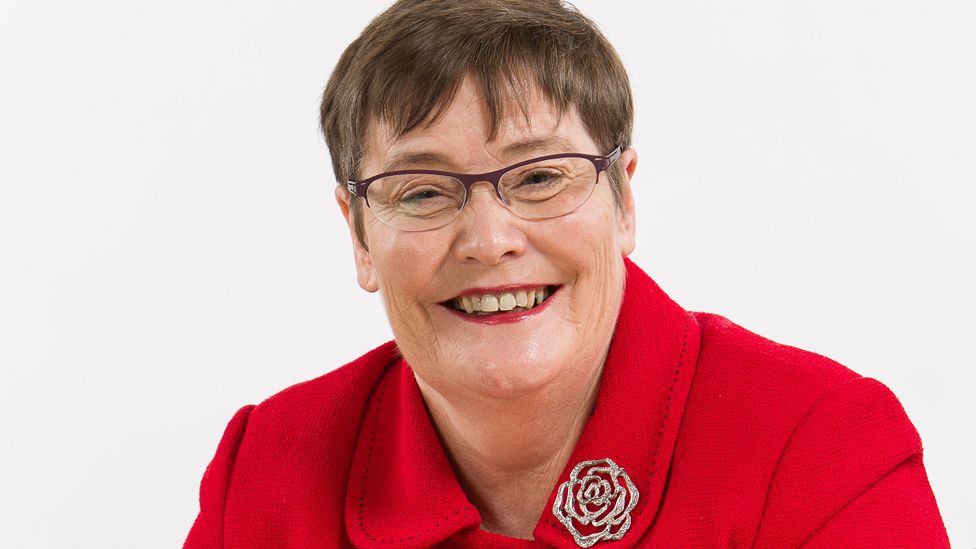 Disabled former MP Dame Anne Begg lost her seat in May's general election. But what has it been like being an MP and what is she going to do next?
She had been a Labour member of Parliament for the Aberdeen South constituency for 18 years. When she entered the House of Commons, it was as one of "Blair's Babes" - the record-breaking 101-strong intake of female Labour MPs in 1997.
At the time, Begg - one of only two wheelchair users in the House - says that the vast majority of MPs were male, middle-aged, white and wore grey suits.
The House of Commons isn't as accessible as it could be and she was unable to sit directly alongside other MPs in the chamber but it didn't bother her. "I remember after getting elected, someone saying: "It's terrible you stick out in the aisle, they haven't cut a bit out of the green benches for you to slot into." Begg says she wrote back and said: "I've been invisible for far too long, I'm glad that you noticed I'm there."
She says she has always resisted blending in because she thought it was good that disabled people could clearly see there were disabled MPs in the House of Commons.
Begg believes that being disabled was an advantage when she first campaigned to get elected as an MP. Voters remembered her as "the candidate in the wheelchair" when they got to the polling station - though she says some passers-by did try to give her money because they assumed she was collecting for charity.
She describes the House of Commons as a robust debating chamber but says that for the first five years fellow MPs "quietened" when she spoke, and no-one wanted to interrupt her because of her disability. Accustomed to the cut-and-thrust of debate (she coached debating teams when she was an English teacher), she found this frustrating.
It wasn't until a female SNP colleague shouted "liar" at her from across the chamber that she realised "at long last I've been accepted".
In the last Parliament Begg became chair of the Work and Pensions Select Committee. It was her job to scrutinise Iain Duncan Smith's programme of cuts and changes to welfare.
Speaking on BBC Ouch's July podcast, she reveals the minister occasionally committed a disability faux pas in the House of Commons.
"[Iain Duncan Smith] took to standing behind me during Prime Minister's Questions. He stood at what's called the Bar of the House and occasionally he would lean on my wheelchair."
Begg says she normally says something if people invade her personal space without asking, but felt she couldn't in this case: "Our working relationship was slightly fraught anyway because I'd been critical of him a lot. I wanted to keep that criticism a professional criticism, not a criticism of him as a person so I never quite built up the courage to actually say: 'Please don't do that.'"
Begg believes she is likely to be the first wheelchair-using MP that voters were aware of as the last was thought to be in a time when media was less available and didn't have many pictures.
Her parliamentary life followed a successful career as an English teacher - another job she had to fight to take up.
She applied to Aberdeen College of Education in 1973 to do primary teaching, but was deemed unfit by the college doctor. She says it was a common assumption at that time that "disabled" equalled "ill". After gaining her degree from Aberdeen University she re-applied to the education college as a postgraduate, only to be refused again by the same doctor.
She was using two walking sticks in those days. She says that with a bit of persuasion she got him to agree not to block her entrance in to college but it was on the condition that she had no absences.
"I was teaching for 19 years and I've been an MP for 18 years," says Begg. She describes her time in Parliament as a "good innings" and says the loss of her job as MP for Aberdeen South didn't come as a blow. "A lot of my constituents work in the oil and gas industry and that often happens to them," she says. "But the difference this time for me is that it's very public, everybody knows and it's on the telly."
When she saw the exit polls indicating the SNP were going to achieve almost a clean sweep of Scotland, she knew she wouldn't win but was philosophical about it. "In 1997 I was the unknown candidate in a three-way marginal and I only got elected because of the whole tidal wave towards Labour and Tony Blair's government, so I benefited from that when getting in in the first place."
As for the future, Begg is still uncertain. "I've had lots of offers," she says, "but none of them pay. I'm 60 this year but I think I'm too young to retire and psychologically I don't want to take my pension. I still need to earn me a crust."
Listen to the Ouch podcast
Dame Anne Begg spoke on the latest Ouch talk show. Listen here.