NHS wheelchair reforms are taking too long, say campaigners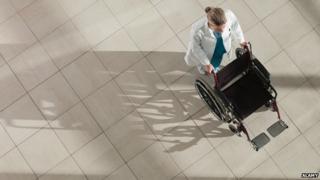 Wheelchair users have criticised progress made by NHS England in improving services.
Last year NHS England launched the Wheelchair Services Improvement Programme after acknowledging they were not good enough.
Since February 2014, two summits have been held and working groups have been set up. The NHS has also formed a group that will campaign for a better wheelchair service, called the Wheelchair Leadership Alliance.
Sir Bert Massie, former chairman of the Disability Rights Commission which advised the previous Labour government on equality legislation for disabled people, has said he cannot see any improvements to services as a result.
"There's now a much wider range of wheelchairs available than there was 40 years ago," he says. "But the problem of getting an assessment quickly, and a wheelchair that meets your needs quickly, is still very hit and miss and depends on where you live."
Liam Dwyer was diagnosed with Motor Neurone Disease in 2005 and has been using a wheelchair full time since 2007. He was one of the users invited to attend the first and second wheelchair summits organised by the NHS last year. He says he felt like the NHS was paying "lip service" to the views of people like himself.
Dwyer has had a number of problems with wheelchairs offered by the NHS. The first one he received was too big and cumbersome. His wife Anna Dwyer explains: "When we went outside it was very difficult for me to get him up even a tiny dropped curb." To remedy this, the couple chose to buy a chair that was more suitable for his needs.
After a fall in 2009, Dwyer broke his ribs and was not able to propel his manual chair by himself. The couple asked the NHS to loan them a powered chair while his injuries healed. It took five months to arrive, by which time Dwyer had recovered. The chair, however, was too small.
"I'm 6ft 2in and I weigh about 20stone, and the wheelchair they gave me was more or less for a young child," says Dwyer.
When the NHS sent an engineer to their home to adapt it to Dwyer's body shape, he confirmed there was no way the chair could be made to fit him.
"He kept getting cramps in his legs, his bottom was constantly sore because his knees were up in his mouth really," recalls his wife.
The couple asked the NHS to take the chair back soon after and Dwyer returned to using his original manual wheelchair.
As his condition developed, he lost the ability to grip and became unable to use his manual chair. He needed a chair specific to his new situation but - following an assessment - the NHS confirmed there was not sufficient funding to provide the chair he needed.
The couple approached the Motor Neurone Disease Association, which agreed to fund a new chair which Dwyer says arrived within 22 days. Though the NHS didn't purchase it, they are still responsible for its maintenance. After reporting an intermittent fault, Dwyer recently had to wait 164 days for the NHS to repair his chair.
Delays like this frustrate Dwyer. He points out that friends of his have died in a short space of time after receiving a diagnosis of MND and cannot afford to wait for a wheelchair.
Paralympian Baroness Tanni Grey-Thompson has been appointed to lead the Wheelchair Leadership Alliance, which met for the first time in March. The group is made up of representatives with an interest in these services, such as providers and organisations that represent wheelchair users.
In addition to a public campaign to raise support, the group is writing a charter which will set out what they would like to see happen. A draft charter has already been written, however they were not prepared to share it with the BBC at this stage.
Massie has seen a copy of the draft charter and refers to it as being "vague". He says: "There is no question of standards. My concern is that if we're going to have an effective wheelchair service we need to know at the very beginning that the clinical commissioning groups know what they're doing and know what sort of services they are providing."
A wheelchair user himself, he now chairs the Community Equipment Code of Practice Scheme. It is a social enterprise that has written and published a code of practice to guide the industry in providing disability equipment and which has been endorsed by the Care Quality Commission - the independent regulator of health and social care provision in England. "I can't understand why the NHS isn't enthusiastic, and grabbing those standards that are available now," says Massie.
The Wheelchair Management Forum represents providers of wheelchair services, of which there are 150 in England. The forum is led by Krys Jarvis who is from the NHS wheelchair service in Shropshire. She says providers like her are also frustrated by this situation and are aware of the shortfalls in services to wheelchair users.
"Providers have long been asking for good, consistent, commissioning specifications," she says, adding that they are given no direction and expected to provide a service without specific parameters.
Baroness Grey-Thompson said: "The difficulty is there's not one NHS anymore. There are 209 devolved Clinical Commissioning Groups that can all run wheelchair services the way they want to. I've never met anyone from wheelchair services that tries to do a bad job. They're trying really hard but it's just not high enough up people's priorities. What we want is loads of people saying this is not right," she says, and urged listeners to write to her at the House of Lords if they feel strongly about it.
The new alliance is launching a website next week called Right Wheelchair, where the public can pledge support.
NHS England says that since last year it has been working towards three targets - improving the data held on wheelchair provision, piloting a new way of paying for them, and providing support and resources to local commissioners. In a statement it says: "None of these areas are 'quick fixes' and each requires extensive testing and engagement to ensure maximum impact and success."
This discussion was first broadcast on Radio 4's You and Yours. Listen again here.
Follow @BBCOuch on Twitter and on Facebook, and listen to our monthly talk show