Viewpoint: My Twitter battle with the people behind the beach body ad
By Juliette Burton
Guest Blogger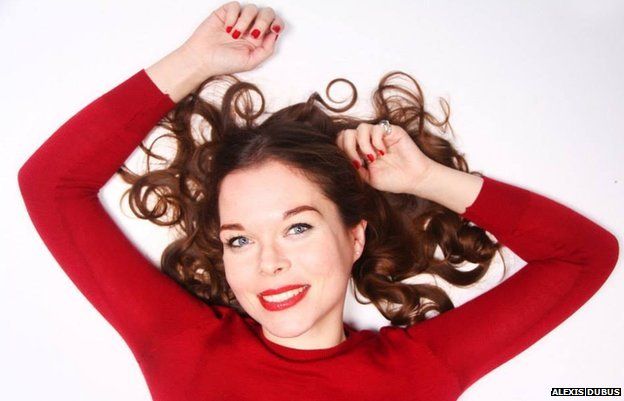 A protein supplement company has come under fire for its "beach body ready" ad campaign featuring a bikini-clad model. Performer and body image campaigner Juliette Burton is one of those who took issue with it. When she tweeted the company, she was surprised and hurt by the response.
The past few days have been the "maddest" I've had in a long time. And I use that word extremely carefully. I know madness.
A petition to remove the ads has now gained tens of thousands of signatures online - including mine.
The Advertising Standards Authority has received 216 complaints, which it says are generally about what is seen as the campaign's promotion of an unhealthy body image, and many of the posters, which appear in London Underground stations, have been defaced.
A Twitter storm has been unleashed - and it was this that I became caught up in. It has not been good for my mental health.
I have a history of mental health conditions, many relating to body image. Overweight as a child, diagnosed with anorexia at the age of 14, sectioned under the mental health act for anorexia aged 17, have been suicidal due to compulsive overeating and struggled with bulimia. I have been in and out of hospital five times, went from a size four to a size 20 (UK) in less than six months.
I still struggle but now work in comedy to promote body confidence and help break mental health stigma. Last year I took my show Look At Me to the Edinburgh Fringe.
"Beach ready" is one of many lazy campaigns using images of slender, toned female models or beefed-up muscular men alongside text that implies, "this is what an acceptable body looks like".
Some people think the company behind it is being deliberately provocative to get as much publicity as possible. The chief executive of Protein World, Arjun Seth, described the people who defaced the posters as "irrational extremists" in Monday's London's Evening Standard. He suggested an "unhinged individual" had threatened to attack the company's head office and said, it had "absolutely no qualms in identifying these fools for exactly what they are. I hope the NSA find these terrorists and take them to Guantanamo Bay".
When signing the petition, I wrote: "I spent my life feeling I wasn't good enough" and allowed it to be tweeted. The company saw it and responded: "Why make your insecurities our problem?", adding a winking emoji.
I replied that the ads were making girls feel bad, to which they replied: "and it's ok to be fat and out of shape instead of healthy? We are a nation of sympathisers for fatties #doesnthelpanyone".
Other people got involved. Some defended me, criticising Protein World for its terrible public relations. Others described me as a fat feminazi, jealous of the beautiful body in the ads. One person even told me I was body shaming the model.
I tweeted the company offering to discuss the issue and explaining about my shows and myself. There was no immediate reply.
Another tweeter pressed chief executive Arjun Seth and Head of Global Marketing Richard Staveley about the company's "fat" tweets to me, asking if they were acceptable.
Seth replied dismissively: "It sounds like Juliette had a lot of issues well before she saw the ad".
After another exchange, Seth replied, "you're both crazy. Get off Twitter and do some work!"
This was shocking to me - yes, I am crazy. I have been sectioned but I couldn't believe someone in a CEO position could be so disrespectful and belittle someone in such an abusive, dismissive, public way.
The Twitter storm continued. Seth replied to one of my defenders: "So she does have a mental health condition." He added a laughing face and an "OK" emoji.
This tweet was directly making fun of someone with mental health conditions.
The company and Arjun have deleted the original tweets to me.
Responding to questions from the BBC, Richard Staveley said: "These tweets have been taken out of context. Juliette herself engaged in the conversation earlier in what many would interpret a jokey manner. Mr Seth at no point knew she had genuine mental health issues."
In an earlier statement, he said "Juliette had been harassing the Protein World account for days and still is. Mr Seth was suggesting this is extremist behaviour."
He also said the company had not "initiated any mental health debate".
The furore continues, and on Twitter, many have tweeted that I am "crazy" said I'm a "mentally ill girl getting my knickers in a twist" or have an "unreliable brain" due to my mental health history. I have been told my conditions mean my views aren't to be trusted.
I believe in taking a stand against "body shaming", but hadn't been prepared for the torrent of abuse I would receive as a result of doing so. I would be lying if I said it hadn't got to me. It has.
This has not been good for my mental health. I've sought support to help me handle this. I am being abused on the internet in all the ways I fear the most. The battle that goes on in my head every day tells me I am fat, stupid, worthless. I'm constantly checking Twitter to see what's being said about me, and have blocked some of the most abusive tweeters.
I sacrificed the most potentially beautiful years of my life upon the altar of eating disorders. I don't want anyone to go through what I went through and miss out on life because life is happening right now and we are good enough as we are. I believe the adverts are dangerous. But the company's behaviour on Twitter is a scandal.