Can deaf comedy be funny for everyone?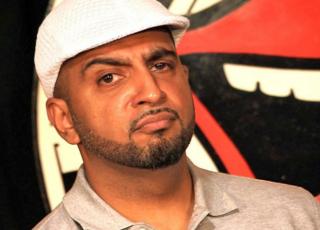 Deaf humour is gaining pace with a new breed of stand-up comedians. But is it possible to get the jokes across to a hearing audience if they are performed in sign language?
Rinkoo Barpaga and John Smith are deaf comedians who both perform using sign language, but they have very different approaches to comedy.
Barpaga hasn't been doing stand-up for long, but has been making friends laugh for as long as he can remember. He jokes mostly about his experience of growing up deaf, or "just funny stuff that happens that I'd tell my mates about at the pub."
He chooses to sign his performances and so Barpaga relies on an interpreter to voice his act for hearing crowds. This means it's the interpreter who needs to have the right pacing, intonation and translation skills to convey the humour. As he can't hear what the interpreter is saying, Barpaga only has a certain amount of creative control - it's risky but when it works, it really pays off. The evidence can be seen at a gig filmed at the famous Gotham Comedy Club in New York, where he had a hearing audience in stitches at how his deaf school unexpectedly lost a game of football against a team from a blind school.
John Smith is from Mansfield and is probably the best-known signing deaf comedian in the UK. He started out in 2005, and has honed his act to the point where he now performs to deaf audiences all over the world. His humour is mostly visual and slapstick, using exaggerated storytelling and signing to describe the similarities and differences between deaf and hearing people. In one routine he acts out the delicate and quiet mannerisms of a hearing person using a public toilet, then re-enacts the same sequence as a deaf person, with slamming toilet seats, loud grunting, straining, and repeated flushing.
Smith occasionally gets his wife to provide a live voiceover - so hearing audiences can also enjoy the comedy - but he mostly likes to perform for deaf people. After all, he argues, hearing people can go and watch hundreds of different comedians at any time.
So is there any chance of deaf comedy breaking out into the mainstream? Barpaga thinks so. He argues that in the same way that black comedians such as Richard Pryor and Eddie Murphy drew on their own life experiences as young black people four decades ago, deaf comedians are doing the same now. They too have the possibility, he says, to build their acts and gain a wider appeal.
In their work, Smith and Barpaga want to reflect what it's like to be deaf rather than make jokes about poor hearing.
If we look at mainstream gags about deafness, they tend to use lack of hearing ability to gain laughs. That old joke about the hard of hearing genie accidentally giving a man a 12-inch pianist instead of the body enhancement requested, can just perpetuate negative stereotypes. Deaf people often say that kind of joke doesn't come from an authentic place. They say a white comedian can't make lazy jokes about black people anymore and argue the same rules should apply for jokes about deafness.
Deaf comedy sometimes touches on the use of cochlear implants and hearing aids - a sensitive issue because some feel that they don't need fixing. In the early days of John Smith's stand-up, performances sometimes ended with him dramatically smashing a hearing aid donated by an audience member. He also teased wearers of cochlear implants, asking one couple if the internal magnets made their heads stick together. He decided to tone down the act after a young boy with implants asked why he was being singled out. Smith now likes to be more inclusive.
Deaf comedy may not be breaking out into mainstream venues just yet - but maybe it doesn't need to. Deaf people need to laugh, just as much as anyone else, and perhaps the best way to do that is to get it raw and uncompromised, and not attempt to make it universally accessible.
Follow @BBCOuch on Twitter and on Facebook, and listen to our monthly talk show