Safer banking tips for disabled people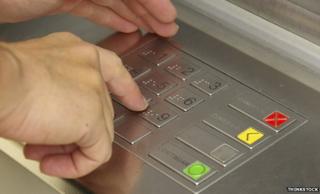 Using chip-and-pin in shops or at a cash machine can be a problem for some disabled people and many have to ask for the help of strangers. But a new guide explains how to keep banking secure.
You've gone to the post office to send a parcel and realise that there's no money in your wallet. Your hands don't work, so punching in the Pin code for your bank card isn't an option, unless you ask someone else for help.
Almost three-quarters of people for whom using a bank card is difficult say they have given their Pin code to someone else in the past two years. That's according to research by the Payments Council which oversees payment services in the UK. They warn that sharing this information breaks with the terms and conditions of many accounts. This means that if you've been a victim of fraud and the bank finds out you gave your Pin code to someone else, you may not get your money back.
Owen Lowery is paralysed from the shoulders down due to a judo accident 30 years ago. When he goes out he mostly does so with paid personal assistants, who he'd rather not give his personal bank details to. "It takes quite a while to establish trust," he says. "When I'm with my wife it isn't an issue, but even then not being able to use my own card does create a feeling of impotency."
Handing over the Pin code for a current account is not the only way you can draw money out or pay in a shop but the Payments Council found that 50 per cent of disabled people said they were not aware safer alternatives exist.
In response, the Payments Council has produced a consumer guide called Pay Your Way. It contains tips on banking safely when someone else does much of it on your behalf.
The new guide gives advice such as how to best use internet and phone banking, how to set up a joint account with a trusted person, and how to create a "one time only" Pin code to withdraw a specified sum without handing over a bank card.
Helen Doyle, head of policy and research at the organisation, told Radio 4's In Touch programme about yet another option which many may not be aware of. Prepaid cards can be bought at the post office and some supermarkets, and you don't need a bank account to do so. Money can be put on to them via SMS, online and at the Post Office and because they are from a major credit card company they can be used anywhere. "Many of these work in the same way as credit and debit cards," says Doyle.
She also recommends third party mandates. These give a trusted person access to an individual's main bank account meaning they can then withdraw money or pay bills for somebody else. "You can normally specify quite specific terms about who has access and what they're able to do," she says.
But for Owen Lowery, it's not just electronic access which causes difficulties. "I haven't handled money since before my accident," he says. "I don't even know what the various notes and coins look like any more."
The guide gives particular thought to those with reduced mobility. It's recommended that the setting up of many of the above safe money methods are best done in conjunction with internet banking, but online services vary in accessibility and require further research to find the one best for you.
Lowery uses a head-mounted mouse pointer to bank online, but says he had to switch banks when the one he was with added a chip-and-pin system to boost security. It caused him difficulties because: "It involved having to punch numbers into a keypad whenever I wanted to access my accounts".
The added security created an access barrier for Lowery as he wasn't able to use his pointer to press buttons on the card reader. "I told the bank about this," he says "but the only compromise they were willing to make was to send me a bigger keypad."
Doyle says that the Pay Your Way campaign has also worked with banks and building societies on new best practice guidelines to boost staff awareness and to make sure accessibility needs are built into products of the future.
Follow @BBCOuch on Twitter and on Facebook, and listen to our monthly talk show