Ouch talk show 114: Christmas quiz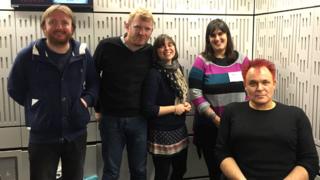 On this month's show - comedian Chris McCausland, filmmaker Dolly Sen and broadcaster Mik Scarlet join Kate and Rob in the studio for the seasonal disability Christmas quiz.
With Rob Crossan and Kate Monaghan.
How to listen
Read a transcript
[171kb]
Show notes
More about this month's guests and discussions:
Chris McCausland is a blind comedian from Liverpool and star of a recent BBC drama written by Jimmy McGovern called Moving On. To parents and children he plays Rudi in the CBeebies show Me Too. He says he has worked hard to make a name for himself for being funny rather than being blind.
Filmmaker and artist Dolly Sen has created an online Madvent Calendar, her take on the traditional advent calendar from the point of view of somebody with a mental illness.
Also joining Rob and Kate in the studio is wheelchair-using journalist and former TV presenter Mik Scarlet. Find him on Twitter here.
Plus other disability-related festive treats.
For other audio clips from Ouch, go to our audioBoom channel.
Producer: Damon Rose.
Follow @BBCOuch on Twitter and on Facebook, and listen to our monthly talk show