In pictures: Stories of disabled life in India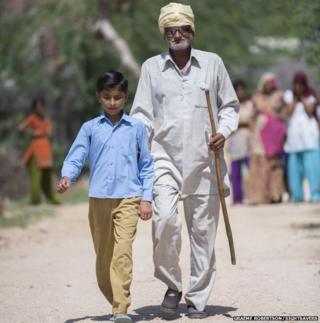 As part of International Day for Persons with Disabilities, photographer Graeme Robertson has been capturing the lives of disabled people in India.
Many disabled people in India are not aware of their rights and are often left feeling isolated and abandoned, says Arvind Ojha, the chief executive of the URMUL Trust, an NGO that works towards social inclusion.
Robertson has spent time in the Bikaner District of Rajasthan in North India, capturing images of what life is like for disabled people there. Many are excluded from daily activities, and are shunned because they can't earn money.
The URMUL Trust, and the international development NGO Sightsavers are working to establish disabled people's organisations (DPOs) which encourage people to advocate for their own rights, so they can then take advantage of services which can assist them to work or gain living skills.
The organisations have already encouraged some to set up shops and go out with friends but many more still feel isolated. The NGOs say their aim is to inspire more disabled people to gain independence and grow in confidence.
Sankarlal Sansi went blind at 14 due to having cataracts in both eyes. He lives with his wife Gomati, two daughters and a son and runs a shop near his house. Since joining the DPO he has managed to secure a loan from a government scheme for disabled people to help him expand his business.
"I used to sit inside the house and my wife used to go to work and support me," he says. "People thought I was unproductive and pitied me. Now I earn myself, I'm very happy."
---
Dallu Kumari contracted smallpox as a child and because her grandmother died there was nobody to look after her. Because of this she lost her sight.
She says that she struggles to think positively. "I can't do anything and I don't even want to do anything," she says. "If you put a chair there and ask me to sit in it then that's all I'll do."
She would like to be more independent and go out with her friends but she says she cannot do this without help, and struggles to find anybody to help her.
---
Bhagirath Jaat runs a provision shop and a flour and oil mill to earn a living, as well as working at the local electricity department. In 2000, at the age of 26, his left leg became trapped in a machine at a steel mill and he had to have it amputated below the knee.
He says that initially his dreams were shattered when he lost his leg. "I felt that life would be useless without a leg," he says. "At first I walked with crutches, but then I got an artificial leg. Now my problems aren't as bad as I thought they would be."
---
Shyam has been visually impaired for the past 15 years. He has three brothers, two of whom are also blind. Shyam relies on his elder brother Soorajmal, 43, who is married with six daughters and a son, to support him.
Shyam stays in his room everyday doing his 'puja' (offerings to god). He dreams of starting a business, getting a small house and having a wife and family, but can't see how this could ever become a reality for him and at present he feels very isolated.
"In society if you have no money and work you are considered a burden and people won't talk to you," he says. "I simply sit at home; there is nothing to be happy about."
---
Manju Devi Maghwal is 45. She had an allergic reaction as a child and now has to use crutches.
Before she joined the Bikaner DPO she wasn't aware of facilities or schemes available for disabled people, but now she has a travel pass and can get around more easily.
"Now I can travel subsidised or free so I don't need to think, 'should I travel or not?'" she says.
She says she couldn't imagine doing productive work before going to the DPO but after meeting others who are working her confidence has grown and she has now set up a self-help group in the community.
---
Shangkarlal Bishnoi is 60 and went blind in 1984 when someone threw acid in his face. He lives with his wife, son, daughter-in-law and two grandchildren.
He says he feels he has lived two lives: the first 30 years when he could see, and the last 30 years as a blind man.
He says that disabled people used to feel ashamed to come out of the house and speak to the community, but having a central place to go to has built their confidence.
---
Bhanvari Devi is 35. During her second pregnancy she had health complications that led to the loss of her sight.
Since joining a DPO she has been given a disability certificate and can now access the services and schemes available to people with disabilities in India. As well as this she has been given training in living independently and her confidence is growing.
Follow @BBCOuch on Twitter and on Facebook, and listen to our monthly talk show