Disabled students: How was life at university?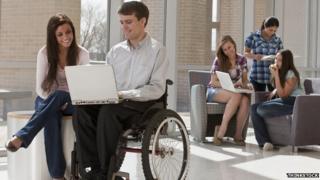 Following our disabled students series, we asked readers to share their good and bad memories of university life.
Moving away from home to university and starting out as a disabled student can take a lot of organisation and confidence, raising questions like: Will I be able to get around campus? Will other students include me? How will I employ and manage assistants or carers?
Many present or former students have contacted BBC Ouch to tell of their own experiences. Here are a selection.
One of the main concerns that came out of the series was that disabled people worry about making friends when they start at university. Will they understand their disability? Will they be included or excluded?
@amancalledalex had no problems making friends. "Loved uni. Made loads of good friends ... Disability was never an issue," he tweets.
But Eleanor Hawkins found it more difficult. She says: "For me, university was a very lonely experience." She was the only person on her course with a disability and felt "isolated". She says making the effort to be accepted was exhausting. "My carers became my friends and made some of my time enjoyable."
Having the correct equipment needed to study at university was high on the priority list of many.
Lizi Tizi Jones comments that prior to university she hadn't really considered the equipment she would need. "Didn't really class myself as disabled until I started to struggle at uni mainly because my chronic pain conditions aren't visible," she says. A friend told her about DART (a project that aims to improve assistive technology) so she went along for an assessment. "Have been blown away by the equipment I've received," she says. "I can even study from my bed with a folding laptop desk and voice software, and get my books on Kindle so they aren't too heavy! I do a lot of study in the bath now as it eases my pain!"
But Liam Hannock got in touch to say that getting the support you need can sometimes be tricky. "Been to university twice, once in the 90s and again this year. You'd think 17 years on, support would have improved, in my experience it had got worse," he says citing unusable IT as a particular problem. He adds: "This was not helped by student finance continually holding up my DSA [an equipment and support grant for disabled students] over petty things." He concludes: "I lasted three weeks and have transferred to the open university."
For Jenna Power university has ushered in a new feeling of acceptance. "I was astonished at the difference between school and university," she says. "My school was absolutely awful regarding my disability which developed when I was 15 (it is invisible and they assumed I was making excuses because I was still doing well) whereas my university was endlessly supportive."
The experiences of past students navigating the job's market got a lot of people talking. Catching up with past BBC Ouch students - who kept diaries on the site in the last decade - revealed that many have struggled to find work despite having higher level qualifications under their belts. Readers have been in touch to say they had experienced the same.
Eleanor Hawkins says paid work has become an "obsession" for her. "People treat you differently when you work, they somehow seem to have more respect for you, that despite all the barriers you face as a disabled person, you have managed to get a job."
And @dcreilly2010 tweets: "I got my MSc years ago and never got work."
@LauraFalder wrote in to say that she had already been told at university that she was not as employable as she had hoped. "During my degree I was told I wouldn't get the job I want and feel it was a complete waste of time!"
Some people were keen to share their positive experiences of finding work after university - relating more with past BBC Ouch students Sara Krishan and Arunima Misra who now work in physiotherapy and investment banking respectively.
Amy Louise Nettleton says that while university was a challenge she "loved it" and hasn't stopped working since. "I am self employed with a portfolio of well paid contracts within the arts," she says. Being tetraplegic due to a muscle disorder with daily seizures hasn't always made it easy for Amy and she says she had to go out and make opportunities for herself in the beginning. But she feels she has to "play down" her disability.
Blind ex-student Yan Kit Chan emailed to say he has been working ever since leaving university and now heads up a team of analysts in Brighton. He thinks it's important for the younger generation of disabled people, particularly blind people like him, to know that they need to "work much harder if they are to achieve the same thing as everyone else."
The overall experience of the disabled students who got in touch was that while it is quite possible to have an enjoyable time at university as a disabled student, it's important that support is readily available, and that more is done to help some disabled people find work. Do you agree? Keep the comments coming and we will update this page soon.
Follow @BBCOuch on Twitter and on Facebook, and listen to our monthly talk show