Disabled students: Fran goes to university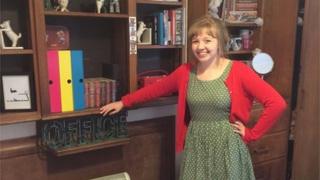 BBC Ouch has been following disabled student Fran Smith as she prepares for university, despite having spinal surgery this summer.
"Getting into Oxford wasn't in the life plan," says 18-year-old Fran Smith. But twenty minutes before she was wheeled down for spinal surgery this summer, she was told she had been accepted to study history at the prestigious university.
Since finding out, Fran has been struggling to get herself fit enough to leave her home in Weston-super-Mare and make the big move. Her disability, Elhers-Danlos Syndrome, causes chronic joint pain throughout the body and makes recovery from surgery much harder.
Fran says she knew having an operation could mean risking her place at Oxford this autumn but the scoliosis - curvature of the spine - had got to a point where she couldn't put it off any longer.
"We knew there was a chance Fran wouldn't make it," says her dad Rob who admits that he and the family didn't believe she'd be able to start at the beginning of term.
At home over the summer, Fran had to focus on getting well.
She says she "grew up a lot" during this time, adding: "Even though I was determined to go and do it, I realised that I had to actually listen to my body and pay attention to what it was telling me.
"Going to university before I was ready could have meant setting back my recovery by months."
Watch the video to see if Fran made it to university.
Are you a current or former disabled student? We'd like to hear about your experiences of life at university with a disability. Email us at Ouch@bbc.co.uk, tweet @BBCOuch using the hashtag #disabledstudents, or get in touch via Facebook
Follow @BBCOuch on Twitter and on Facebook, and listen to our monthly talk show