Disabled graduates: Life after university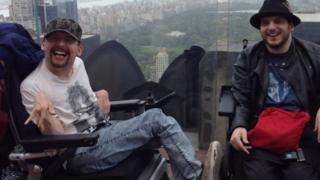 This week BBC Ouch is revisiting disabled students who we followed in the last decade. Several years later, how are they doing?
Moving away from home and starting out as a disabled student can take a lot of organisation and confidence, raising questions like: Will I be able to get around campus? Will other students include me? How will I employ and manage assistants or carers?
In 2003, Ciaran Gilligan and Sara Butler (now Sara Krishan) kept diaries of their first few weeks at university. They had great fun but since graduating they have had very different experiences. With almost 50% of disabled people unemployed, how have they fared in the job market?
---
Ciaran Gilligan
30-year-old Ciaran lives on his own in a flat in Leeds. He has cerebral palsy and is a wheelchair user. In 2003 we followed him as he started at Manchester Metropolitan University studying English and creative writing. He says he really enjoyed his time at university and graduated with a 2:2. "I didn't particularly work very hard but that wasn't really the main point of going," he says. "It was a means to an end for me and I made lasting friendships there."
He has since done voluntary work for Samaritans and written concert reviews for a local website but has not found paid employment since leaving university.
He wants to become a copywriter and he aims to be self-employed by this time next year. "It seems the best route to go down in my circumstances," he says.
Juggling agency care workers to help him up in the mornings and to get food is "a job in itself", says Gilligan, who thinks it would be difficult to always turn up for a 09:00 start if carers let him down. "I'd quickly get fired," he says.
This year he has discovered a love of travelling which he's achieved entirely independently. It started off by spending new year in New York. "I went on my own, completely on my own, and couch-surfed with friends I'd met through a Facebook group for people with cerebral palsy.
"It was a big leap for me," he says, particularly as he wasn't sure whether the airline would allow him on the plane by himself. But it went well, partly because he was open with his online friends about the help he would need. "I said I'd need somewhere to stay and someone to help me out with care stuff," he says. A neighbour was able to assist and the apartment was accessible, so it worked out. He's been to New York three times this year now, and once to Tenerife.
---
Sara Krishan
Sara Krishan is 29 and lives in Birmingham. She has albinism which causes low vision. In 2003 she started at Birmingham University. We followed her as she was beginning a BSc in physiotherapy. She is now married and has a two-year-old son.
It's been eight years since she graduated and she has been in employment ever since. She puts this down to her course choice and is pleased she took physiotherapy. Her first job was in a hospital where she was a junior and rotated through different departments - outpatients, elderly care, stroke patients and respiratory, giving her good all-round experience at the start of her career.
She says she looks back on university as a carefree time where she built some really strong friendships. "I went out last Friday night with a load of university friends for a 30th birthday celebration. Everyone still knew I couldn't read the menu in the pub and helped. One of them thought to walk with me back to the train station, but when they think of my visual impairment they think 'whatever'."
She says that, even though a physiotherapist is seen as a stereotypical "blindie" job that everyone appreciates is very "doable", she was discriminated against in interviews initially. "One interviewer told me they definitely wouldn't be able to employ me as they wanted someone quickly and that Access to Work funding wouldn't arrive in time to fund the taxi fares and computer equipment I'd need," she says. But her current employer is "fantastic" she says, with "no whiff of prejudice".
After graduating she got into triathlon racing but found she had to drop that when she started a family. She jokes she is "not interesting" and has "no life" now - "I watch Netflix a lot," she says.
"Being a working mum means I don't have much time for hobbies and spend many hours looking after my little boy."
Catch up with three more graduates who Ouch has followed: Arunima, Darren and Charlotte
Are you a current or former disabled student? We'd like to hear about your experiences of life at university. Email us at Ouch@bbc.co.uk, tweet @BBCOuch using the hashtag #disabledstudents, or get in touch via Facebook
Follow @BBCOuch on Twitter and on Facebook, and listen to our monthly talk show