Does wellbeing improve your mental health?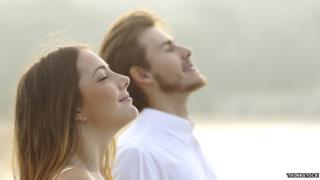 The importance of mental wellbeing has gained significant support in recent times. But does it protect against mental illness?
"If I do things that will make me happier," the logic goes, "I am less likely to experience mental health difficulties."
This has been the thought behind projects like Action for Happiness and Mindapples which were started to promote mental wellbeing as well as to protect people more generally against developing mental health difficulties.
Originated by social entrepreneur Andy Gibson, the Mindapples project was inspired by the message that everybody should strive for five portions of fruit or vegetables a day. In sessions, Andy and his team ask people to take a card in the shape of an apple and write on it their "five a day" for the mind, the things they do to feel happier - and then share their apple by sticking it onto a 6 ft high tree.
Recent examples from Mindapples' clients posted on their website have ranged from the whimsical to the spiritual with: "name a raindrop"; "outdoor sex" and prayer or meditation. More practical examples might be about getting plenty of sleep and eating well.
Gibson believes getting people to come up with their own solutions for mental resilience is important. In the Guardian in 2012 he writes that public health campaigns have a "bad reputation for telling people how to live". He says mental health is "too personal" and adds that there is evidence showing that taking prescribed actions to boost wellbeing doesn't work.
Prevention
When Mindapples launched in 2008 it was riding a wellbeing wave. In the first decade of the 21st Century, before global austerity arrived, European governments were turning increasingly towards the idea that the prosperity of nations depended on more than Gross Domestic Product. No new mental health drugs were in the pipeline, so prevention seemed to be better than a cure. Wellbeing for mental health was "in", but this time they wanted evidence that it really worked.
In October 2008, the Government Office for Science published the results of a Foresight review and proposed that if everyone looked after their mental wellbeing, and if policy focused on increasing it, fewer would develop mental health difficulties.
As part of the review, The New Economics Foundation, a think tank, was commissioned to develop an easy, catchy but science-based set of things that individuals could do to safeguard their mental health and which public sector agencies could promote.
These Five Steps to Wellbeing are: connect with people around you, be physically active, take notice of the world and people around you, find time for reflection, keep learning, and give your time and support to something that helps someone else.
Evidence
Fast forward through five years of austerity and one change of government.
An early feature of David Cameron's time in office was a discussion of the wellbeing and happiness of the nation. Public Health England, created during the reorganisation of the NHS in 2013, now has a Mental Health and Wellbeing Directorate.
On September 9 this year the Chief Medical Officer for England, Professor Dame Sally Davies, upset the applecart with her annual report. Her topic this year was public mental health, specifically looking at how the available scientific evidence could be best used to improve the mental health of people in England.
The report is supportive of programmes which act on matters such as bullying, violence and employment difficulties, but says there is no evidence that the promotion of wellbeing through things such as the Five Steps has any effect on the number of people currently experiencing mental illness.
Davies says she refuses to take a "leap of faith" and recommend wellbeing programmes without the evidence to support them. She advises that work to promote wellbeing should not be paid for out of funds for the treatment of mental illness or the promotion of mental health.
The report caused consternation for those in public mental health. Some believed it signalled a return to medical models of mental health focusing on illness rather than taking positive preventative action. Some said it was too early to say evidence wasn't there for wellbeing measures. Others questioned whether political and policy perspectives might be shifting because of austerity era money-saving policies.
For some, including people with long-standing mental health difficulties who are fed up with the new wisdom telling them to "go for a run" or to "take up a hobby" it might be a relief. However, walking away from wellbeing may mean a re-medicalisation of mental health at a policy level.
Focusing efforts on hospital beds, medication and therapies, it is argued, could be at the expense of a more holistic approach - that of having positive experiences and a fulfilling life.
Mark Brown was editor of One in Four magazine, a magazine about mental health difficulties by people with mental health difficulties between 2007 and 2014. His mental health work was recognised in the Independent on Sunday Happy List 2014.
Follow @BBCOuch on Twitter and on Facebook, and listen to our monthly talk show