The disabled food blogger photographing her way back to health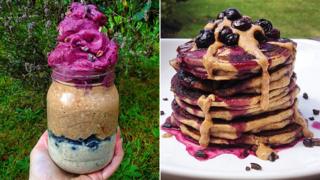 Why one chronically ill young woman swapped medication for a strict plant-based diet.
Like millions of others across the world, Natasha Lipman posts pictures of the food she eats on Instagram. But instead of cakes and fancy restaurant meals, she photographs her breakfast green juice concoctions and healthy superfood snacks.
Sixteen thousand followers watch the 25-year-old Londoner's daily progress, as she tries to maintain a diet of fruit, vegetables, nuts, seeds and grains.
She initially joined Instagram to help her diet stay on track by keeping a visual food diary but says that her success on the site is down to more than intriguing food photos of smoothies and pancakes with raw chocolate. "I'm specifically sharing my day-to-day story of how I'm using food to heal, and the ups and downs of life with chronic illness."
Born with the connective tissue disorder Elhers-Danlos syndrome, Lipman's joints are prone to regularly and painfully dislocating. Last year, however, she developed two additional chronic conditions, an autonomic system issue called PoTS which stops the body from regulating itself properly and a histamine intolerance that's left her with severe allergies to foods including tomatoes.
"I started getting dizzy, lightheaded, tight-chested, constantly nauseous," she wrote in the Huffington Post of her new symptoms. "I couldn't stand without needing to pass out, I couldn't eat half a banana without thinking I was going to die and needing days to recover, rolling around in bed in agony." She stopped being able to work or leave the house.
The medication she was prescribed didn't work, she says, and gave her "uncomfortable and idiosyncratic side effects that the doctors had never heard of." One drug made her feel like her skin was being sliced off, others caused hallucinations.
On 1 January 2014, after a bout of serious illness, Lipman had had enough of symptoms and side effects and began to look at the role that food might play in her recovery.
"Natural foods have to be very good for me," she decided after months of internet research. "Let's just cut out all of the rubbish and see what happens." She stopped eating meat, dairy, gluten, refined sugar and all processed food in favour of plant-based foods, particularly those such as ginger, which are said to have healing or pain-relieving properties.
Within months Lipman says she had improved to such an extent that she could hold down a full-time job from home, and eat complete meals without repercussions. But while a few Instagram followers try to foist eating habits like the raw food diet on to her as a definite cure, Lipman says that evangelising about specific diets is dangerous.
"I don't try anything without research and self-experimentation," says Lipman, "and would never tell anyone that there is one right way. Just because someone has read a few of my posts, doesn't mean they understand my conditions and the complicated chemical reactions that are unique to each of us."
As she became less ill, Lipman very slowly began reducing her medication and despite a few health relapses, nowadays doesn't take any drugs at all. But the blogger is keen to stress that this is a personal journey and doesn't advocate that others stop taking their meds. "Drugs help a lot of people," Lipman tells the Ouch talk show. "At a point last year, I wouldn't have been able to stand up if it weren't for certain medication. At that time, it was what I needed."
Lipman says that many people in her "real" life find her diet "quite weird-sounding", so making friends on Instagram has been one of the best things to happen to her. "Connecting with like-minded people is amazing. And it stops me boring my family with my food talk all day."
---
Natasha's recipes: Fennel juice bar and super food balls
The ingredients for her fennel green juice are: one large cucumber, two fennel, four stalks of celery, half a head of broccoli, a bunch of fresh coriander, an apple, and quarter of a lemon, all juiced up together with a teaspoon of wheatgrass.
For her super food balls you'll need: 1 cup pitted dates, 1/5 cup chia seeds, 1/4 cup flax seeds, 1/4 cup raw cacao nibs, 1/4 cup pink Himalayan salted pistachios, 1/4 cup mixed seeds, a pinch of raw vanilla powder, a generous pinch of pink Himalayan salt and 1-2 teaspoons of a root called maca. Whizz it all up in a food processer until the dates are broken down and you can pinch the mixture together with your fingers. Then roll the mixture into about 14 balls and store in the freezer.
---
Hear Natasha Lipman's story on the latest Ouch talk show. She is on Instagram as nutritiouslynatasha.
Follow @BBCOuch on Twitter and on Facebook, and listen to our monthly talk show