Drama brings craft of eye-making to life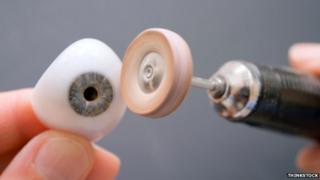 The art of artificial eye-making is brought to radio and the stage in a new darkly comic play.
Slipping is a new radio play about the relationship between Elena (Charlotte Riley), a woman with glaucoma who decides to have an artificial eye, and her ocularist Sean (Andrew Scott). Romance, lies and the art of prosthetic eye-making all contribute to this darkly comic tale.
"Between my colleagues we can tell each other's eyes a mile off," says Sean to Elena. "Trademark details - someone spreads his veins around a certain way, someone else's edges are a bit sharp, or they favour a particular shade of white.
"We've 10 shades of white. If you're young it's the brightest kind."
The art of making eyes is skilled, says playwright Claudine Toutoungi, who has herself undergone eye removal because of glaucoma.
"Ocularists see you for an initial consultation where they take a photo of your good eye," says Toutoungi. "They work from the photo to make a tailor-made, hand-painted eye. They want to match what they're making for you as perfectly as possible."
She says the final bespoke cosmetic eye she received had a more dilated pupil than an off-the-peg version - a personal feature in her existing real eye because of multiple surgery. "They have an attention to colour that you wouldn't have thought was possible.
"You slot it in almost like a very hard counter or lens. It moves completely naturally. It's like a little limpet made out of plastic with the eye painted onto it, and you can take it out when you need to clean it.
"In the olden days I think they would be round marble balls or something similar."
Toutoungi says she quickly recognised the dramatic possibilities which led to her writing the drama. "Eyes are crucial. They're such a big part of love and romance and eroticism. I worked on this script for quite a long time and really stayed with the characters. I feel like they exist. they're both people in quite chaotic places in their lives and I think it's completely plausible they could collide given how people in this situation are forced together in this strangely intimate way."
When Toutoungi decided to have her bad eye removed eight years ago, she was quickly introduced to the "harsh" medical terminology that comes with the territory.
"As a patient whenever you do something new, you're entering a world which almost has a sacred language of its own," she says. 'Enucleation' (surgical removal of the entire eye) and 'evisceration' (eye's contents are removed leaving the muscles and white covering) are quite frightening sounding words when you first come across them. Then you hear you'll be having an 'orbital implant'."
Then there is the term "sympathetic response", which is used to express what happens when surgery on one eye triggers a problem in the other eye. "It sounds like a good thing, but it isn't," says Toutoungi, "Although it does appeal to the punning side of my nature."
---
How are prosthetic eyes made?
Made from the same acrylic used to make teeth
Veins are created by sealing tiny shreds of embroidery thread into the plastic
In the last 12 months the NAES made 4,662 bespoke eyes
They made a further thousand "stock" (generic not personalised) eyes in the same period
The National Artificial Eye Service
---
You can listen to Slipping on Afternoon Drama on Monday 1 September at 14:15 BST. A longer version of the play will be performed at Scarborough's Stephen Joseph Theatre between 3 and 18 October.
Follow @BBCOuch on Twitter and on Facebook, and listen to our monthly talk show