Ouch disability talk show 109: Tetra belly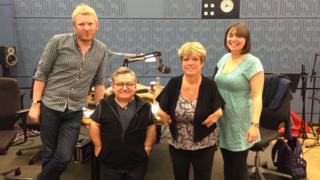 On this month's show: Do disabled people have a ready-made excuse not to diet or exercise if they have limited movement? We talk to a mobility impaired woman who has lost four stone after changing her lifestyle.
Also: Mental health made funny at London's Anxiety Festival, and the disabled woman behind the eagle story that went viral.
Rob Crossan and Kate Monaghan present.
Your monthly way in to disability news through chat, humour and the little things of life.
How to listen
Show notes
Find out more about this month's guests and discussions with our selection of links.
Producer: Damon Rose
Follow @BBCOuch on Twitter and on Facebook, and listen to our monthly talk show