I'm blind but don't need a wheelchair to board a train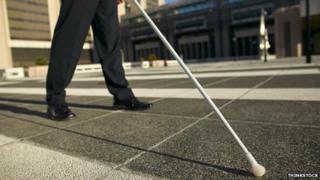 Blind author Red Szell bemoans how airports and train stations offer him assistance more appropriate for someone with another type of disability.
"It's bad enough losing one area of independence without having another snatched away," says Red Szell.
He complains that, when travelling, "well-meaning souls" provide the wrong kind of help for him. Often staff arrange assistance more appropriate for someone who is mobility impaired not visually impaired, and if you don't book ahead this can often take longer as it involves getting equipment or vehicles.
"Recently I turned up to an airport having navigated my way there unaided, on time, and with a rucksack full of climbing gear ready to tackle an Italian rock face.
"All I wanted was a bit of guidance through the gloom to the departure gate - but oh no, instead my arrival initiated 'a procedure'."
Szell was taken to a seat and then asked to wait.
"Resistance was futile," he says. "I had entered the Health and Safety zone."
Forty minutes later, with his flight being called for the final time, a wheelchair was produced and he only just made it on board before the doors were closed.
But it's not just airports, says Szell, train stations can sometimes have the same procedures.
At one station the guard asked whether he was travelling alone and on replying "yes" Szell was then held there while the guard radioed for help from a colleague.
The reason? There was, the guard said, a danger that he may fall down the gap between the train and the platform. When Szell explained he was in a hurry the guard told him he was unable to assist because he must not leave his post.
"The minutes ticked by and I considered vaulting the barrier," says Szell. "The train left without me."
An electric buggy then pulled up next to him, waited an hour for the next train, and carried Szell just 15m so he could board.
They said the buggy had been summoned to "facilitate" the journey, says Szell.
"I shouldn't be surprised," he says. "It's the same impulse that has hosts at parties steering me to the nearest chair. I don't want to sound churlish, an offer of genuine assistance is a joy to receive but being subjected to a one-size-fits-all risk assessment solution is like being labelled a liability for daring to set foot outdoors.
"I know the airport and railway staff have a duty of care and the host has every right to take charge at his or her party, but I am the one living with my condition and a good doctor always talks to his patient before dispensing treatment."
Train stations and airports advise disabled people to book assistance in advance of their journey to avoid complications. For trains it is advised to book 24 hours ahead, and airports will require 48 hours' notice.
Red Szell's viewpoint piece was broadcast on the latest edition of In Touch, the long-running programme for visually impaired people which airs every Tuesday at 20:40.
Follow @BBCOuch on Twitter and on Facebook, and listen to our monthly talk show