See Hear: How slave couple preyed on a girl's deafness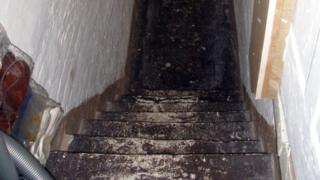 Five years ago, trading standards officers discovered a girl at a house in Salford, Greater Manchester. She had been kept as a slave for almost a decade by a married couple.
Ilyas Ashar, aged 84 and his wife Tallat, aged 69, were convicted in 2013 for crimes including rape, trafficking, exploitation and benefit fraud. At an appeal court in February 2014, the husband had his sentence extended from 13 years to 15 years. His wife's sentence was extended from five to six years.
The girl, now in her 20s, remains anonymous. A fact often overlooked in news coverage was that she is deaf. But far from being incidental, this may be crucial for understanding how the crime could have happened.
Klara Skrivankova, from Anti-Slavery International has heard of a number of similar cases. She believes the girl was targeted "because of her deafness and [because] she had absolutely no language".
See Hear spoke to one of the trading standards officers who discovered the victim. The officer - who wishes to remain anonymous - says that he and his colleagues were paying a routine visit regarding reports of counterfeit football strips and mobile phone covers. The property they found seemed to be well maintained: "It was a nice house from quite an affluent family. We spoke to Mr Ilyas Ashar. He didn't seem overly upset by our visit to the property and he complied with everything we asked of him at that time."
The officers believed that a young woman at the address was responsible for the sale of the counterfeit goods - but when they asked to meet her, they discovered that she, herself, was the victim of a more serious crime.
She had been asleep on a camp bed in a cold, dark cellar, despite the house having several empty bedrooms. When she came upstairs, the officer spoke to her for the first time: "[She] seemed extremely frightened, very withdrawn, very shy, very timid. She was unable to communicate. First, I think we put that down to a language barrier. It was not immediately obvious to us that she was without speech and couldn't hear."
The girl was taken away from the house to a place of safety. Her captor Ilyas Ashar was described as visibly agitated by this turn of events.
As social services started to teach sign language to the girl, details of what had happened to her gradually emerged.
She had been brought over from Pakistan on a fake passport at the age of 10, and put to work as a cleaner at various properties owned by the couple. She had been repeatedly raped by the husband.
"In the UK we come across two forms of modern day slavery," says Skrivankova, "forced labour and trafficking. People are brought into a situation where they are forced to perform work or services they haven't agreed to or in conditions they haven't agreed to."
Traffickers will look for vulnerable people as likely targets: "It can be related to age, it can be related to education or ethnic background, but often it's related to a disability."
Rubbena Aurangzeb-Tariq, a deaf Asian woman who works for the Deaf Ethnic Women's Association (DEWA), believes the girl may have been trafficked from Pakistan because she was unwanted. She says she has witnessed communities which believe that having a disabled or deaf child is a taboo. "It is like they have committed a sin, and God is punishing them. It's embarrassing to them if someone sees the child signing."
She adds, "It's possible her family thought, 'What can I give my daughter?' They may have thought she'd get a better education, with education for girls in Pakistan being so poor. There's a lack of sign language interpreters and communication support in that country too. They may have been promised a better life, which the Ashars said they'd give her."
Aurangzeb-Tariq believes the girl would have known she was trapped, and would have realised something was wrong but wouldn't know what to do about it. "Who could she turn to? She had no language. The English-speaking world is so different from Pakistan. She didn't know who she could go to, and indeed, who would understand or believe her. The family would just say, 'Oh don't worry she's just being silly. It's because she's deaf. Don't worry!'" She fears most British people would be likely to accept this explanation.
"Lots of deaf Asian girls and women come to my services," she says, "but they have no voice, are powerless and have no independence."
The deaf woman is now living a new life, with a new identity and a new language. The trading standards officer says he and his colleagues are happy that justice has been done: "We were extremely relieved that the sentences given reflect the harm caused to this lady. We only hope that she can move on with her life now and forget some of the nightmares that have occurred in her past."
Email us at seehear@bbc.co.uk with your stories and comments, like our Facebook page, and watch the programme at 10:30 BST on Wednesdays - or catch up on BBC iPlayer.
Follow @BBCOuch on Twitter and on Facebook, and listen to our monthly talk show