The sea turtle with fighter-jet fins... and four other stories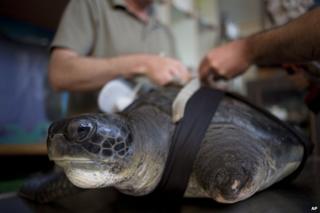 Five disability stories from around the web this week, as curated by Ouch.
Amputee sea turtle gets fighter jet fins
Hofesh the sea turtle, who lost two flippers when he got tangled in a fishing net four years ago, can swim again, thanks to prosthetics based on a fighter-jet wing design. If they fall off, he'll drown, so Hofesh can't be released back into the wild. Instead, he is living in a tank with a blind female sea turtle at an Israeli rescue centre, preparing to breed when he reaches 30 - the age of sea turtle sexual maturity.
Earlier this year, mental health campaigner Jonny Benjamin launched a massive media drive to find a man, nicknamed Mike, who talked him down from Waterloo Bridge when he was considering suicide. Neil Laybourn was that man. He saw the appeal and came forward for a reunion with Johnny. Since then, the pair have made a 45-minute documentary about what happened "to spread a message of hope". Watch it in full on the Rethink Mental Illness website.
The world through a deaf person's ears
Although previously we've only been able to guess, scientists can now more accurately replicate what you hear if you have a cochlear implant. When a wearer regained the hearing in one ear, they asked him to compare sounds heard in that ear with those heard in the other ear, still using the implanted device. Voices sound a bit distorted and robotic, but better than the scientists had previously thought. Take a listen for yourself.
Comedian Simon Day stars in a new online film about multiple sclerosis in the workplace. Set on an away day, Circle of Truth talks through the anxieties young people have about losing their job if they disclose to their boss that they have the condition. The film was launched by Shift MS, a social network of over 5000 young "MSers" on World MS Day, 28 May.
Do awareness days bring awareness?
A social worker with the pen name "cb" ponders how useful so-called awareness days are. Blogging at Fighting Monsters, she asks whether they "break down attitudes that marginalise", or "make us place conditions into boxes". She thinks there might be a better way. What do you think?
Follow @BBCOuch on Twitter and on Facebook, and listen to our monthly talk show