Ouch disability talk show 108: Remembering the disability protests of the 1990s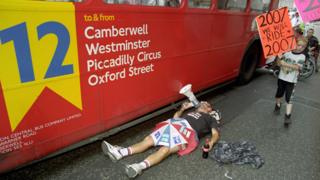 On this month's show: the disability protest group Direct Action Network (DAN) is 25 years old. One of its founders talks to us about the campaigns which brought it fame - and notoriety - in the 1990s.
Plus, we meet the single disabled woman who, despite relying on personal assistants herself, has recently adopted a 15-month-old disabled child.
Rob Crossan and Kate Monaghan present.
With interviews and topical chat, Ouch loves to explore the little things in disability life. Find it on this website monthly.
How to listen
Show notes
Barbara Lisicki (pictured above) is one of the founder members of DAN, the disability protest group mainly remembered for chaining themselves to buses and bringing central London to a standstill in the 1990s. It's almost 25 years since DAN set down their roots by protesting against ITV's Telethon.
Lesley has adopted a disabled toddler with complex needs - a fact made remarkable because Lesley is herself disabled, single, and uses personal assistants in her own day-to-day matters. Lesley, who's in her 20s, tells us she adopted her because she feared the child would spend the rest of her life in an institution.
Our Ouch news correspondents section contains reports on equipment design and how dog attacks on assistance dogs could see the owner of the aggressive animal receive a three-year prison sentence.
Verity Smith's plans to compete at dressage in the 2012 London Paralympics were sadly dashed when her horse died. She's now trying to raise the funds for a new horse, and has recorded an LP, La Verity, which she's giving away to those who contribute (it's also available to purchase separately). We end the show with her song Periphery Woman..
For other audio clips from Ouch, go to our Audioboo channel.
Producer: Damon Rose
Follow @BBCOuch on Twitter and on Facebook, and listen to our monthly talk show