See Hear: The rise of video relay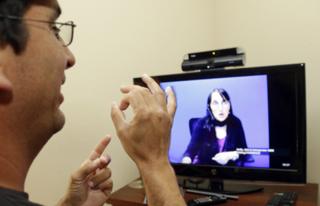 A weekly helping of news of interest to the deaf community, compiled by the See Hear team.
For the last 20 years, if deaf people have wanted to communicate with someone over the phone - normally a very inaccessible thing to do - those in the UK have relied on BT's text relay service, previously known as TypeTalk, to make assisted phone calls.
The deaf person types a message using software on their smartphone or computer, or a special text phone, and an operator at the service relays it to a hearing person.
Many deaf sign language users struggle with this system because to use it effectively, they need a good grasp of written English.
For many BSL is their first language, not English and they would prefer to conduct phone conversations via a sign language interpreter. However sign language interpreters can be expensive and difficult to book at short notice.
An alternative method which is increasingly popular is to use sign language interpreters via a video link. Previously online video was expensive and a technical challenge, now it is becoming more and more technically viable with the rise of high speed internet.
Video relay works in a similar way to mainstream video chat services like Skype or Facetime, which deaf people often use to chat one-to-one.
It connects the deaf person and an interpreter via real-time video link so that they can see one another's signs.
The other exciting aspect of video relay is the scope for interpreters to remotely translate conversations between deaf and hearing people who are in the same room. This has the potential to work particularly well in emergency medical situations, currently at the forefront of many deaf people's minds following the recent Guardian article about a couple left without an interpreter during the traumatic birth of their son.
In the US, there are over 20 separate Video Relay Services. By law, these are funded by contributions from all the major telecoms providers, and are free for deaf people to use. The deaf person only pays for the cost of the phone call.
In the UK, there are only a handful of video relay services, including SignVideo, MyFriend, Sign Solutions and Sign on Screen. Here, telecommunication providers have no legal requirement to shoulder the cost. UK service Sign Video's website says that their contracts "are similar to mobile phone contracts" and that they " offer a range of subscription plans". Cost to UK deaf users varies but Sign Video claims their service gives "up to 75% saving, in comparison to current costs for a face-to-face interpreter". Face-to-face interpreters can cost anything from £40 to £200 a time.
At the moment, discussions are ongoing about who should pay for video relay in the UK but the hope is that Ofcom will soon announce new guidelines for the provision of sign relay services funded by major UK telecoms providers.
When deaf people no-longer have to pay, it is expected that there'll be a much higher uptake of video relay services here.
InterpreterNow! a new service due to launch in the spring, has the potential to be a heavyweight competitor if this happens.
It's a merger of two major existing services, SignHealth's SignTranslate and Sign on Screen, run by Deaf Network UK - a network of several deaf charities including Deaf Connections, Royal Association of the Deaf, Nottinghamshire Deaf Society and Deaf Direct.
One downside of video relay is a lack of portability, but more companies such as SignVideo and MyFriend have already made dedicated smartphone and tablet applications available to their users.
Instant Virtual interpreter assistance on the go will take some of the anxiety out of essential tasks like visiting Accident and Emergency departments or phoning service providers.
Next week, See Hear focuses on the past. The British Deaf History Society tells us about its mission to preserve deaf history at their new museum launch in Warrington, and the British Deaf Association introduces a new project to preserve valuable film archives. We also feature deaf filmmaker Ted Evans's personal exploration of local deaf history in the East End of London.
You can like See Hear on Facebook or email us with feedback at seehear@bbc.co.uk.
Follow @BBCOuch on Twitter and on Facebook, and listen to our monthly talk show