See Hear: Scottish deaf school told to improve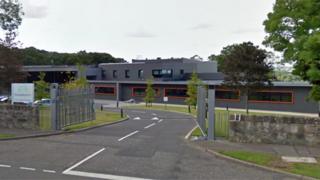 A weekly helping of news of interest to the deaf community, compiled by the See Hear team.
Scotland's national school for deaf children, Donaldson's, has been told to improve the way it is run.
Communication issues between senior management and staff were highlighted last month highlighted in a report by Education Scotland, the school standards body. It says these have "led to poor understanding and sharing of information on a range of issues". Education Scotland plans to carry out another inspection in twelve months' time.
Earlier this month Donaldson's came under fire for its handling of an indecent assault by one of its staff.
Speaking at the trial of William Docherty - who was found guilty of groping a 16-year-old boy at a party - the sheriff at Falkirk crown court criticised the school for not suspending the communication support worker until four years after the 2009 assault.
Docherty has now been formally placed on the sex offenders register and is awaiting sentence. Last year, the chief executive and head teacher at Donaldson's were suspended, prior to an inquiry into their handling of the affair.
There has been one piece of good news for the school - parents have been successful in a campaign to make the local council provide funded nursery places at Donaldson's.
West Lothian council had earlier said that it was no longer prepared to provide partnership funding for places at the unit, which received praise in the Education Scotland report. That decision has now been reversed.
Mary Mulligan, convenor of Donaldson's board of governors, has welcomed the decision: "The school is thrilled to hear that the Council has reviewed its decision and that our nursery will continue as a partner. I have personally been impressed by the passion of our parents and commend them in the work they have done."
Elsewhere in the news
The deaf community was shocked this week to learn of a seemingly unprovoked assault on a deaf man in a Bristol nightclub. The Bristol Post reports that Harry Gibson was asked directions by two men but when he tried to sign his response, he was severely beaten. Police are investigating.
American football player Derrick Coleman has been deaf since the age of three - but that hasn't prevented him reaching this Sunday's Superbowl with his team, the Seattle Seahawks. Coleman puts new batteries in his hearing aids before every game, a ritual which has led to him endorsing a well-known battery manufacturer in a TV advert that's now gone viral.
Coleman won't be the only deaf talent on show at the Superbowl. When the US National Anthem is sung by Renee Fleming before the game, actress and sign performer Amber Zion will be there to translate it into American Sign Language. Keep your eyes open for her.
On See Hear next week
We've been following the lives of four deaf children - Aimee, Yasin, Lucy and Aiden - through the school system since the age of five.
Next week, we're catching up with Yasin and Lucy, who are now aged 10. Yasin has a cochlear implant and is fully mainstreamed with English as his first language. He has a hearing family and one sister.
Lucy's first language is sign language, she has three deaf siblings and deaf parents and attends Heathlands School for the Deaf. We find out about her ambitions for success at the Deaflympics.
Watch clips from previous and upcoming programmes at bbc.co.uk/seehear and email us with your feedback and story ideas at seehear@bbc.co.uk
Follow @BBCOuch on Twitter and on Facebook, and listen to our monthly talk show