Moshi Monsters under fire for 'disfigured' baddies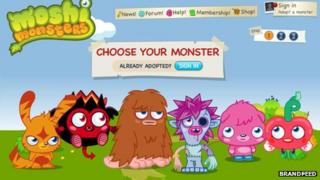 Moshi Monsters is a phenomenally successful online children's game - but it's been accused of reinforcing negative stereotypes of facially disfigured people.
Mind Candy, owner of children's computer game and franchise phenomenon Moshi Monsters, is under fire from the facial disfigurement charity Changing Faces, for using names such as Fishlips, Freakface, and Pirate Pong for "evil" characters. It says the names are similar to terms of bullying and abuse encountered by children with disfigurements.
Changing Faces want Mind Candy to "stop using scars, spots and missing eyes to emphasize the evil nature of their characters" because they think that connecting disfigurement with badness gives a negative impression of people who have similar issues. The charity estimates that that more than a million people in the UK have a disfigurement to their face, hands or body. It says that 90% of the young people Changing Faces come into contact with who have disfigurements have been bullied, and they say name-calling is "endemic in schools".
Moshi Monsters is one of the UK's biggest internet successes, played by more than 87 million children worldwide. Characters live in Monstro City, an interactive, virtual world where players adopt one of six monsters, customise it and give it a new name. "Monster owners" look after their online pet by buying food and fun stuff for it with rox (Moshi currency) earned by undertaking challenges.
Changing Faces is particularly concerned about a group of "bad" monsters called Glumps. Introduced in 2011, Mind Candy launched a public competition to name them. Fans of the monsters gave Glumps titles including Bloopy, Ned and Mustachio, and a member of the public came up with Fishlips. But it was Mr Moshi himself, Mind Candy founder Michael Acton Smith, who chose to call a Glump with a purple blotch on each side of his face and two oddly shaped teeth, Freakface.
Freakface's official biography says he "must have graduated with honours from the school of drool because he can't stop dribbling". Dribbling can be an issue for people with partial facial paralysis after illnesses such as a stroke and Bell's palsy, or who had part of their face removed due to cancer.
Calling a character from a child's game Freakface is "like something from the dark ages", says Changing Faces's founder James Partridge. "I'm very surprised by how extraordinarily stubborn some parts of British business are to getting into the 21st Century," he says. "Gollywog is not an acceptable term for a black person today but sadly, we are not yet in a world which rejects similarly offensive words describing facial disfigurements."
Mind Candy says its online game has hundreds of monsters with "a range of characteristics", which "are portrayed in a positive light including some of our most popular and well loved characters, Zommer, Big Bad Bill and Gingersnap." And it points out that it is far from alone in giving villains "quirky and unusual looking visual characteristics".
It says that these kinds of characters "have captivated children with exciting narratives over the years and are the essence of good, visual storytelling".
There is undeniably a long history of villains being identified by disfigurements - such as Shakespeare's Richard III. The Bond villain Ernst Blofeld is facially disfigured, and in Star Wars Darth Vader's burned and scarred face is hidden under a black mask.
But Changing Faces's founder James Partridge, who lives with serious facial scarring due to a car fire, says that this doesn't make it OK. "Our concern is that people are so used to seeing disfigurement used to portray villains in the media that it may be hard for people to imagine that someone with a scarred face could ever be someone's friend in real life.
"It can encourage people to make moral judgments, unwittingly perhaps... based on the images on the screen."
Last summer, Lego released toys to promote The Lone Ranger, one of which was disfigured villain Butch Cavendish. He was described on the Lego website as "a ruthless outlaw whose terribly scarred face is a perfect reflection of the bottomless pit that passes for his soul". Changing Faces approached the company to complain that the description was offensive and it was altered immediately.
Mind Candy says in a written statement that it is "very sorry that any offence has been caused by our characters".
The company says that it has been in discussion with Changing Faces since March 2013 when it was first alerted to the concerns, and that it has discussed the possibility of developing storylines to support the charity's work. "Given this, we are surprised to hear of this current campaign against the Moshi brand," the company says.
Follow @BBCOuch on Twitter and on Facebook, and listen to our monthly talk show