Is Santa's beard too bushy? Having a happy disability Christmas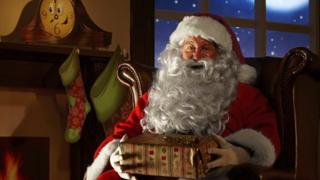 It's nearly Christmas and all across the world, disabled people and their families are making videos and writing blog posts giving a glimpse of how they're celebrating the festive season that little bit differently.
Here is a selection.
Sing
It's the perfect time of year to watch home videos of little ones being cute and tugging at the heart strings. These three from the US fit the bill.
Father Christmas
There's some mild confusion in the deaf community over who Santa is, and what he says.
Just adjust
Santa isn't the only one who might need to make adjustments for disabled children at Christmas, as two bloggers attest.
Wrap it up
What would Christmas be without presents? And what would presents be without wrapping paper? Some would say much better.
Follow @BBCOuch on Twitter and on Facebook, and listen to our monthly talk show