See Hear: Healthcare and media sign language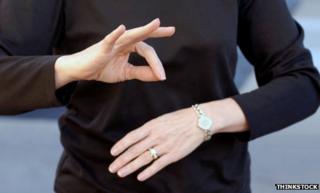 A weekly helping of news of interest to the deaf community, compiled by the See Hear team.
Last week we reported on the publication of new standards for patients with sensory loss to ensure good access to health services in Wales.
In related news, this week, a health watchdog upheld a complaint against a Welsh hospital which failed to provide an appropriate level of care for a deaf man.
When an 80-year-old patient identified as Mr W arrived in Abergavenny's Nevill Hall hospital, no-one had written on his medical notes that he was deaf. As a consequence, he was treated as though he had dementia. The situation deteriorated even further when he was given an unnecessary catheter, and staff failed to inform him that he had cancer.
His widow believes that her husband's care was compromised because staff did not consider his deafness, even though she told them about it.
The health board offered an unreserved apology to the family, and has taken steps to improve deaf awareness in future.
The family wishes to remain anonymous.
A new app is to be developed to help sign language users with the language of media.
Filmmaking vocabulary like "wrap", "cut" and "turn over" are more easily understood in spoken English, for instance, because they are existing words which are close to the original non-media meaning and are generally more well-known.
In sign language though, the sign for wrapping a present will look completely different to the sign for wrapping on a film set at the end of a long shooting day. On a film set it's a hand stuffing an imaginary canister. But the sign for "wrap" as in wrapping a present, is the hands rolling over and over each other.
The sign for "cut" in every day life is a scissoring motion. On set it's a hand moving underneath the chin.
Unsurprisingly, media signs are rarely seen outside a media context and so are not so well-known by sign language users. Being able to refer to a portable sign glossary could therefore be useful.
If deaf people and interpreters want to work in the media industry, it helps to be aware of those media-related signs and their different meanings. Hearing people can easily access online media glossaries to explain this written jargon, but deaf people don't have a sign language equivalent.
The University of Wolverhampton, in partnership with several British and European companies, has won £250,000 of funding to develop the app, called Signmedia. It will give deaf people across Europe the specialist language knowledge they need to work in their country's media industry.
The See Hear TV programme is off air until Wednesday 9 January when we'll be tackling the issue of alcoholism in the deaf community. Also, our presenter Memnos will be donning traditional Japanese clothing and having a go at acting with the Japanese Kyogen Theatre of the Deaf. Until then, you can still watch our sign-singing and dancing Christmas special and several other programmes on BBC iPlayer until December 31.
Follow @BBCOuch on Twitter and on Facebook, and listen to our monthly talk show