See Hear: Mandela and 'bogus' signer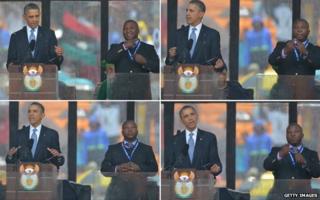 A weekly helping of news of interest to the deaf community, compiled by the See Hear team.
The apparently bogus sign language interpreter at Tuesday's memorial service for Nelson Mandela, has been the focus of worldwide media attention.
The See Hear team caught glimpses of the interpreter in the stadium on UK television coverage and couldn't understand what he was signing. It seemed to have no grammatical base and kept repeating sign patterns when it was clear that the speaker he was interpreting, was not using repetitive words.
South African Braam Jordaan, the Young Deaf Leader for the World Federation of the Deaf, told the BBC the man was "creating his own signs". You can read a transcript of Jordaan's BBC interview here.
Readers might be interested to hear that there is now a parody Twitter account @memorialsigner. To mimic the interpreter's alleged nonsense signing, @memorialsigner is tweeting random disconnected words every so often. For example: "many files, wiper blade, banana cheese," and "A4, wire post, pigeon glue". As a postscript, the signer, named as Thamsanqa Jantjie, has blamed his actions on a "schizophrenic episode" while on stage.
A more local Mandela-related sign language issue is exercising the deaf community too. Hearing viewers in the UK may have complained last week about too much coverage of the death of the elderly statesman, but deaf and signing people had their regular accessible BBC sign language service on BBC News channel dropped during this time.
On Friday morning, the day after the news broke, the usual sign language service was not there - replaced instead by the world's reaction to his death. This Tuesday, the in-vision signer again disappeared from the morning bulletin, replaced by live coverage of Nelson Mandela's memorial service from South Africa.
Viewers can watch BSL-interpreted news on the digital-only BBC News Channel at various set times during the day. A signer appears on the edge of the screen at 06:45 to 07:30, 07:45 to 8:30 and at 13:00 on weekdays.
The channel is bound by the media regulator Ofcom to provide 5% signed content per year. The editor can drop the signing if deemed necessary as long as the annual quota is met.
Scheduled signing on the channel is most likely to be dropped when a major event occurs. In the past the signer has been absent during coverage of the election of President Obama in 2008, the 2010 general election, and the death of Margaret Thatcher.
Interpreter and deaf activist Linda Richards left a message in the BBC duty log: "As a friend said, Mandela preached equality and the BBC doesn't. Typical. Stop dropping the signed news whenever a 'major' story breaks. We want and demand access to that same story too... the Budget, elections, 9/11, 7/7 are all major events you have excluded us from."
A BBC News spokesperson tells us: "Our signers work across the BBC on live and pre-recorded programmes. This means it's not currently possible to provide ad-hoc signing for breaking news on the BBC News Channel, because we have designated slots where signing is provided, chosen at times where we can reach a large number of viewers who use the service. Signing is provided by the BBC's play-out partners Red Bee Media. We provide them with a feed of our studio output and they then add the signing and send the signal back to us for distribution. The Mandela memorial was covered from a different studio to our usual one, which meant it wasn't operationally possible to provide signing in the normal slot. However, we are committed to providing signing for our viewers, exceeding the quota outlined by Ofcom, and from 1 January 2014 we will be providing signing on the BBC News Channel, seven days a week. Subtitling is provided on all News Channel output."
This week, we have learnt that the NHS in Wales has drawn up new guidelines to make sure that deaf and blind people are given better access to services.
Richard Williams, director of Action on Hearing Loss Cymru, added: "These standards have been shaped by people who are deaf and hard of hearing, born out of their real-life day-to-day experiences as patients within the NHS in Wales."
He said he hoped they set a precedent for how services are delivered for patients with sensory loss across the UK.
Last week, we reported on an online petition for Lovefilm to improve their subtitle provision on their internet based service, Lovefilm Instant. This week we have an update.
According to their PR company, Lovefilm are aware of Stephanie McDermid's petition. Yesterday they updated the Frequently Asked Questions on the Lovefilm site to say: "Closed captions (subtitles) are currently not supported on Lovefilm Instant, but we are working on the technology to change this and add access services to our films and TV shows."
On next week's programme, we are celebrating Christmas with Santa Claus, sign songs and the repeat of our much loved Christmas drama - Grandad starring deaf actor Hal Draper who passed away a year ago.
Additional reporting by Damon Rose
Watch a preview or catch up with this week's episode here
See Hear is broadcast on BBC Two at 10:30 GMT on Wednesdays - or catch up on BBC iPlayer
Follow @BBCOuch on Twitter and on Facebook, and listen to our monthly talk show