See Hear: Deaf customer frustrated by Lovefilm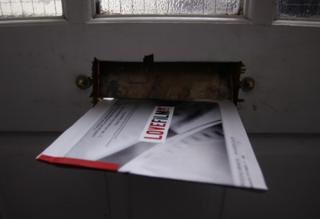 A weekly helping of news of interest to the deaf community, compiled by the See Hear team.
Film and TV rental company Lovefilm has been called out by a frustrated deaf customer.
Stephanie McDermid is upset at the lack of subtitling on the company's online streaming service and their failure to publish information about which of their DVDs carry subtitles.
Her petition asking Lovefilm to do more for deaf customers, has more than 10,000 signatures at time of writing.
McDermid contrasts their approach with rivals Netflix who plan to make all their videos available with subtitles by 2014. "Lovefilm should consider the 10 million people in the UK with hearing loss," she says.
Are Lovefilm listening? See Hear contacted their press office, and like McDermid and the charity Action on Hearing Loss, We have yet to receive a response.
The independent regulator and competition authority for the UK communications industries, Ofcom, is in the final stages of improving text relay services for deaf people and they want your input.
The current Text Relay service allows deaf people to hold text-to-voice or text-to-text conversations via phone. In text-to-voice chats, an operator acts as the mediator, reading out messages typed by a deaf person via a specialised textphone, to a hearing person using a regular handset. Text-to-text calls take place between two textphones.
While the service is invaluable to many deaf users, it is in need of modernisation. Text relay is currently only usable through specialist textphones, which can be difficult to install and not as easy to use as smartphones, tablets or lightweight laptops. In addition, more people are now communicating via real-time video, voice and text chat applications like WhatsApp, Snapchat and Skype.
Ofcom's consultation on next generation text relay closes on 10 January, with the updated service slated for launch in April 2014. Key improvements to look out for include the ability to have more 'natural' conversations and for the service to be available on laptops and smartphones.
Feedback can be added online, through email or by post
The Deafness, Cognition and Language Centre (DCAL) recently hosted a fascinating exhibition on the history of British Sign Language.
The exhibition is closed but DCAL have put the entire project online, with signed translations, video clips and much more. A useful resource for anyone with a passing interest in BSL.
We enjoyed watching German sign language interpreter Laura Schwengber's interview with the Magazine on BBC News Online. Schwengber is the subject of a fully subtitled online video about her love of interpreting for deaf people at live music gigs.
On next week's programme, we bring you an update on some of the research that's being carried out at the Deaf Centre for Language and Cognition, University College London.
We feature fascinating demonstrations of memory, perception and peripheral vision as well as revisiting some of the findings from our first Deaf Brain programme several years back, and we've got some fun tests which you can take part in at home too.
We're looking at new research showing how deaf people read English sentences differently, and how early sign language acquisition is not detrimental to learning spoken English.
Watch a preview of next week's programme and catch up with this week's episode here.
See Hear is broadcast on BBC Two at 10:30 GMT on Wednesdays - or catch up on BBC iPlayer
Follow @BBCOuch on Twitter and on Facebook, and listen to our monthly talk show