Deaf react to Holby City young interpreter episode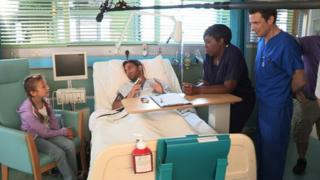 A weekly helping of news of interest to the deaf community, compiled by the See Hear team.
See Hear presenter Memnos Costi recently appeared in an episode of BBC One medical drama Holby City, with his nine-year-old daughter Kachina.
Reflecting their real life situation, they played a deaf dad and his hearing daughter. Kachina's character had to act as sign language interpreter for her father in a complex medical setting.
The episode got some of the highest viewing figures in the series but received a mixed reaction from the deaf community.
Some criticised the programme for seemingly portraying the use of children as interpreters as normal or commonplace. In an open letter to the BBC, the Gloucester Deaf Association (GDA) wrote:
"It has taken 20 to 30 years for people working with the deaf community to have medical authorities understand how critical it is for a fully qualified BSL interpreter, who will have taken years to train in their profession, to be the one that acts as a communication conduit in these situations".
The letter also said that interpreters are better able to stay neutral in potentially emotional situations than family members.
Others praised the episode for the realistic depiction of something they say still happens.
Matt Dixon, a child of deaf adults, had to interpret for his terminally ill father in a medical setting in 2009. Dixon endorsed the Holby City storyline in online deaf community magazine Limping Chicken saying, "Sadly, that is reality and I applaud them for running with such a story."
In the past, the medical drama has featured deaf signing characters using fully trained interpreters. A spokesperson for the programme told See Hear that "as with all storylines in Holby City we worked closely with medical experts and it was never our intention to suggest that using a child for interpreting is how such a scenario would typically be handled within the NHS".
This episode of Holby City is no longer on iPlayer, but you can watch our behind-the-scenes report here.
The government's Access to Work (ATW) scheme is used by many deaf and hard-of-hearing professionals in the UK to pay for the support they need in the workplace, whether that be note-takers, lip-speakers or sign language interpreters.
UK deaf charities Action on Hearing Loss and the British Deaf Association say they have growing evidence that ATW is asking deaf people to employ full-time support staff rather than their current system of using freelancers, in order to save money.
They believe that "the change in policy will not only restrict [deaf people's] access to communication support but will also increase costs for employers that could force people with hearing loss out of work".
"It's totally unrealistic for the 3.7 million deaf workers in the UK to recruit a full-time communication support worker", says Action on Hearing Loss's Paul Breckell. "The type of support someone needs might vary from day to day and there are real problems in terms of the number of qualified professionals available."
A spokesperson for the Department of Work and Pensions says that ATW keeps all policies and will "continue to work with disabled people and their organisations in order to ensure the scheme works effectively".
We'll be keeping an eye on this story and will bring you more news as it develops.
It's been reported that a deaf defendant in a trial had to be released from custody after a Scottish court spent two days trying to find an interpreter without success. .
The 29-year-old, who was accused of sending abusive text messages and vandalism charges, was apparently held for 52 hours while his legal aides mounted a nationwide search for someone who could assist with communication. Eventually the court sheriff granted a motion to desert the case as no interpreters could be found.
See Hear is broadcast on BBC Two at 10:30 GMT on Wednesdays - or catch up on BBC iPlayer
Follow @BBCOuch on Twitter and on Facebook, and listen to our monthly talk show