Life with one hand, and the week's other disability stories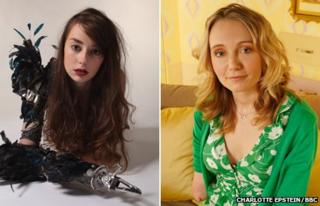 Are you in the disability loop? Here are our spots from the week in blogs and social media.
Two distinct themes have emerged in disability news this week - people with one hand, and disabled hairdressers.
On Monday I wrote about children's TV presenter Cerrie Burnell, who was born with her right arm ending just below the elbow. When asked, she struggled to come up with a task she thinks is more difficult with a missing hand. She said that her other disability, dyslexia, has a much greater impact on her life.
Also born with a shorter arm is Grace Mandeville - a young actress from Surrey who you might have seen in CBBC's The Sparticle Mystery, which first aired in 2011.
She and her sister Amelia regularly post amusing videos on YouTube on subjects from trick or treating to the contents of their bedrooms. Their quirky home-made films often get around 5,000 views. The latest video is from Mandeville alone, explaining how having one hand affects her.
It turns out that, like Burnell, she's not bothered by practical matters, apart from maybe "cutting a bit of tough steak". She doesn't even mind people staring at her, but what does upset her are unpleasant comments people post alongside her YouTube videos, like: "Look at her stump. That's disgusting."
In the latest video, she says she's not worried about covering it up - though she does have a prosthetic hand to wear if she chooses. Mandeville jokingly says she only uses it at Halloween because it comes in handy for gruesome pranks. A bit like the folk from Amputees in Action, a specialist stunt and acting agency for injured former soldiers, who specialise in whipping off their prostheses in scenes where a character loses a limb in dramatic circumstances. Mandeville likes to scare her friends at Halloween in similar fashion.
She describes her hand as "extremely life-like" and had input in the design which has freckles and unlike her real one, nails that look unbitten.
Her description reminded me of a guest we had on our talk show last January. Gill Hicks, a survivor of the London 7/7 bombings, lost both her legs on the Tube train between London's Kings Cross and Russell Square. When she gets new prosthetics, Hicks told us that she always asks the technicians to add a couple of extra inches, making her taller than she was before.
And so to the next one-handed person who was in the news this week - hair-stylist Ashley Thomson. He wrote a piece for The Kentishtowner six months ago, explaining that "no-one can actually teach me how to be a hairdresser because they don't have one hand but they can show me how it's meant to be done. I watch carefully and then figure out a way to do the style myself."
In a follow-up for the local paper this week, Thomson says a girl who had lost feeling in her right arm after a car accident had emailed him after reading his story. "She had been training to be a hairdresser and was struggling to regain her confidence," he says, reporting he has inspired her to return to college.
Stories which tell of disabled people doing unlikely jobs are real crowd-pleasers. And so, getting back to our game of join the disability dots, and moving it on from limb impairments, we find he wasn't the only disabled hairdresser making headlines this week.
Partially-sighted stylist Dianah Kendall was all over the tabloids on Tuesday. She lost her peripheral vision after receiving a brain injury. Though the Welsh hairdresser can't judge distance and sometimes bangs into obstacles, Kendall says that she can see a head of hair directly in front of her well enough to cut to her usual good standard.
What's interesting about this story are the headlines. Newspapers chose to use terms like "partially blind hairdresser" and "Britain's most blind hairdresser", rather than describing Kendle as having low vision or being visually impaired. Had they told the story of customers in Wales who remain loyal to a hairdresser who can see their heads perfectly adequately... it just wouldn't have had the same impact, would it?
Follow @BBCOuch on Twitter and on Facebook, and listen to our monthly talk show