Ouch talk show 102: Not The Truman Show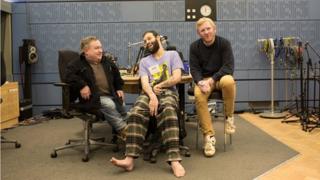 On this month's show, video blogger Jonny says being open is good, the disability autobiography quiz and the future access technology that's already here.
Rob Crossan presents.
With interviews, debate and topical chat, Ouch helps resolve those difficult disability questions and loves to dwell on the minutiae of living.
Download a high quality MP3 version of the show or stream it crystal clear now on Audioboo.
Simon Minty, consultant and founder of the Abnormally Funny People comedy troupe, joins comedian Tim Renkow to discuss matters topical with Rob at the beginning of the show.
Jonny Benjamin on YouTube: Watch videos created and uploaded by this month's guest. Jonny has schizoaffective disorder - a combination of schizophrenia and depression. He explains the delusions he's had, and the voices he sometimes hears.
Robin Christopherson of AbilityNet joins Rob to discuss the future access technology that's already here.
And we finish the show with "The Sabrin: My very last day" by top learning disability band The Fish Police, taken from their latest album The Marzipan Transformations.
You can follow Ouch on Twitter and on Facebook, and listen to our monthly talk show