Columnist's Twitter storm, and other disability stories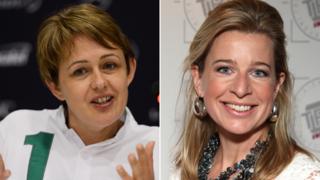 Are you in the disability loop? Here are our spots from the week in blogs and social media.
Katie Hopkins, reality TV star and The Sun's latest columnist, courted controversy earlier this week when she cracked a joke about Baroness Tanni Grey-Thompson that many thought to be in poor taste.
The 11-time gold medal winning Paralympic athlete, now a crossbench peer, was discussing what makes us human on BBC Radio Two when Hopkins tweeted: "Tanni Grey-Thompson. God I wish there were some carpet tacks lying about between her and the BBC studios."
Tweets of support started flowing for Grey-Thompson describing her as "brilliant" and a "national treasure". And wheelchair-using blogger Hannah Buchanan posted an open letter, explaining why she found the joke particularly offensive.
She said: "I think the meaning behind your 'joke' Katie was that if her tyre punctured she would have been unable to grace your television screen... You chose the thing about her that is different from you, the idea that you have a non-disabled body and she doesn't."
Buchanan also pointed out a factual inaccuracy: "Pneumatics have come a long way... tyres are puncture-proof now". This fact was confirmed in a tweet from Grey-Thompson: "No air in my tyres... tacks wouldn't work :)".
Grey-Thompson is a fan of Twitter and regularly uses it to canvas opinions on everything from disability policy to what she should have for tea. She expressed gratitude for all the extra followers gained as a result of the joke at her expense.
It isn't often that disability news becomes a talking point by those outside the usual circles but Wednesday was different. As a member of the Ouch team travelled home by train, he heard a disturbance in the carriage. On pulling out his headphones, he was surprised to hear an excited full-blown conversation taking place about the Independent Living Fund (ILF).
Earlier in a London court that day, five disabled people had successfully won an appeal which resulted in the government's decision to close the ILF being declared unlawful.
More than 18,000 disabled people with the highest support needs receive on average £300 per week from the fund, so that they can hire staff to help them live independent lives.
The three judges decided unanimously that the minister for disabled people had breached equality duties in opting to close the fund and hadn't properly taken into account the impact the decision would have on recipients.
David Wolfe QC, who represented the five disabled people in court, told False Economy that the government "haven't said that they will try to appeal, so we're waiting for that in the next few days. Assuming they don't appeal, they will now need to go back and think about what they want to do.
"Obviously the appellants hope that the government doesn't carry on with the closure," he said, "but the government can rethink again as long as it does it lawfully."
In a statement, new minister for disabled people Mike Penning said, "We will be examining the judgement very carefully and considering the implications before deciding on the most appropriate way forward, which includes seeking leave to appeal."
On her blog, campaigner Jane Young said that, if ILF were to close, disabled people's ability to get washed, get out of the house or participate in society would be compromised. "Some may even have to move into residential care, an outcome as unacceptable to disabled people as it would be to anyone else," she added.
Some of our favourite blog posts about disability this week:
As a disabled student starting university - how do you get a social life? ReadSulaiman's advice
If I were Katie Price: Katherine Kowalski, mum to a little boy with multiple disabilities, responds to Katie Price's comments about parents of disabled children, mentioned in this column last week.
Follow @BBCOuch on Twitter and on Facebook, and listen to our monthly talk show