Dyspla arts festival: All the right letters...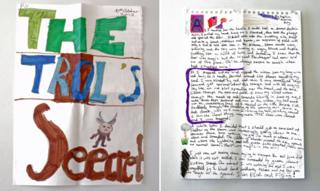 Dyspla is an arts festival that showcases the talent of people with dyslexia.
This year they're going back to basics. All flyers for the November event openly and happily admit that they "may contain spelling mistakes".
A particularly intriguing feature this year is an exhibition of handwriting to celebrate the unique way in which people with the condition put pen to paper. Many with dyslexia avoid handwriting, instead preferring to use computers with software which obliterates typical dyslexia errors.
Lennie Varvarides runs the festival and has dyslexia herself. She is a playwright, producer and talent manager based in London.
The weeklong event has been an annual fixture in the city since November 2007 but this is the first year it has received funding from the Arts Council.
Dyspla goes beyond just one week, though. An offshoot, Sunday Surgery, is a monthly development workshop for dyslexic writers run by Varvarides. Throughout the year, playwrights are coached on how to get their ideas onto the stage without the anxiety of having to pen a lengthy script.
In an interview with Ouch, Varvarides explains how she came to see her dyslexia as a positive and why she is so passionate about helping other people with the condition to realise their creative potential.
How does dyslexia affect your life?
I process information differently. Figuring out the best order to do something in, is sometimes not as obvious to me.
When I wake up in the morning, I can't work out what to do first. Should I get my clothes and then go to the bathroom or should I go to the bathroom first and then go back to my bedroom and get dressed?
I became self-employed because dyslexia made it really hard to be in a workplace. My managers made comments on my handwriting and didn't think how I organised my day was very practical. They said: "I want you to put in your calendar what you will be doing at nine o'clock, 10 o'clock." It was really difficult for me to plan out my day like that.
Why did you start Dyspla?
When I finished my Master's in writing for performance I thought, what can I produce that's unique? The only thing different about me was that I love writing and I'm dyslexic. Then I realised that that's quite huge.
It's exciting to think about people becoming poets and playwrights when historically they've been told they aren't good at reading and writing.
What is The Letters Project?
It is our way of engaging with as many dyslexic writers from around the world as we can, without much funding. All we ask is that they handwrite a letter about their experiences of dyslexia or if that's too personal, pen a poem or short story. We accepted anything that was written by a dyslexic, without the use of a computer.
All the entries are exhibited at the theatre and will be put on our website.
Why do you want to exhibit handwritten material rather than word processed work?
Because we want to celebrate our dyslexia, not hide it behind a perfect piece of text that can be produced on a computer using spellcheck and specialist software.
You can't hide it if you write something by hand, because the result is wild and robust and heavy. The marks that you make when you are dyslexic, the relationship you have with that pen and that piece of paper, its individual, and it is obvious that there's a learning difficulty there.
What is your own handwriting like?
It is very squiggly. Another thing about dyslexia is that with our handwriting, the text will begin in one way and towards the end of the page, it changes.
The dyslexia stereotype is someone who can't spell. Is that you?
My spelling and grammar are awful. I miss out words and I write the wrong words. There's no punctuation. But you can still get the story. Kids are tortured in school for their bad handwriting or their bad spelling or not being able to learn punctuation and grammar properly. But you don't need all of these things to tell a story.
The debate due to take place on the festival's opening night is titled dyslexia, help or hindrance. Which do you think it is?
I am biased. I do think it is a help, that's why I'm so passionate about the festival. But I didn't know that until I became self-employed and started doing things around dyslexia.
Until a few years ago, I hated myself for not being able to get along in the workplace, for having to struggle at school. I was getting frustrated because simple things were just impossible sometimes.
The Dyspla festival has made a difference to so many people these last three years. I get emails saying: "I'm so glad you're running this festival. I've never told people that I'm dyslexic and now I feel almost proud." Stories like that make me realise that we are changing how people feel about themselves.
Many are now calling dyslexia a positive gift, a sign of creativity. Is it?
The two tales that go around when you talk about dyslexia are that art colleges are full of dyslexics and that prisons are full of dyslexics. There's a big difference between the kids that end up in prison and the kids that end up in art college but they share something. So it makes you think that if circumstances were different, then maybe more dyslexics who are low achievers because of their circumstances, could be playwrights and poets.
There's a big divide between the dyslexics who get on and the dyslexics who don't and I believe that's all about opportunity. If a dyslexic comes from a really low-income household where their parents don't see any opportunities for themselves, let alone their kids, then dyslexia isn't going to be seen as this amazing wonderful thing. It'll be seen as another reason why that child will fail.
Dyspla 2013 takes place from 11 to 17 November, at The Camden People's Theatre.
Follow @BBCOuch on Twitter and on Facebook, and listen to our monthly talk show