Katie Price speaks out, and the week's other disability stories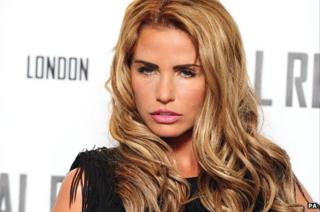 Are you in the disability loop? Here's our top spots for this week.
Katie Price, model, businesswoman and mother to disabled child Harvey, was outspoken in an interview with Sam Walker on BBC Radio 5 live this Monday.
Walker asked her if she thought there was enough help available for families with disabled children. Price said, "There actually is a lot of help out there but some people are too ignorant and they don't want to look for the help." She mentioned that her son is "statemented" in the UK's standard education system and gets his medical treatment via the NHS: "But you do have to fill out the forms and you do have to take the time out to do it. If you look for it you can find it."
When pressed on what she meant by people being ignorant, Price said it could be that some parents are "too lazy". She said, "They probably think 'oh there isn't help' but you have to go and find it. It's not going to come to you… People might think that because their child is disabled that no one will want to help. Well, that's the wrong attitude because there is help if you go out and get it."
Price went on to say she would never want to change her son: "Not everyone's perfect. Just because we can walk and talk and see, doesn't mean to say we're perfect because we're not."
What does the world look and feel like after a brain injury? The website aphasiacorner.com has been promoting its aphasia simulator on social media to mark World Stroke Day on 29 October. Aphasia is defined as the loss of ability to understand or express speech after brain damage (such as that caused by a stroke). It comes in different forms.
Click the "play" button and you begin to appreciate various difficulties. For instance, a voice tells you to click on "cow" but confusingly offers you a picture of a horse and a cat, with no cow in sight.
Simulating disabilities only gives some of the picture, obviously, but the website hopes to educate and raise awareness of the problems involved.
Wearable technology has been talked about for years - now it's here in the form of Google Glass, the intelligent specs due to go on sale in 2014. Smart specs promise so much for the non-standard among us, they could almost have been invented on our behalf.
Google has consulted disabled people when developing their much talked about hands-free technology. It has a camera, it speaks to you (and you to it), and gives contextual information about what's in front of your eyes - in effect, an audio-visual information filter between you and the world.
It has potential for many different types of disability. A video on USA Today shows a quadriplegic woman taking photos and sharing them over social media with the glasses. It sounds basic but if you can't use your arms, you can't put a camera to your eyes. With smart glasses you always have a camera up at eye level so no limb movement is necessary.
More unusual concepts are also being discussed. On-board facial recognition software could give information about emotions to people with autism who may find it hard to know if someone is happy, sad, upset or amused. And another glasses project can reportedly tell blind people the name of a person who has just walked in the room, or even have your guide dog speak to you..
Follow @BBCOuch on Twitter and on Facebook, and listen to our monthly talk show