Welcome to the asylum, and the week's other disability stories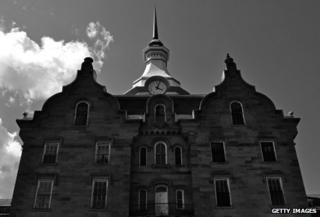 Are you in the disability loop? Here's our list of spots and stories from the web this week.
The pop culture website Dangerous Minds has published a list of recorded reasons from 1864 to 1889 of why patients were admitted to Trans-Allegheny lunatic asylum in West Virginia - now open for tours. The old-fashioned way of thinking makes for unsettling reading.
People were locked up for reasons such as having been kicked in the head by a horse, for "imaginary female trouble" and "masturbation for 30 years".
Other reasons for admission include "seduction and disappointment", "bad whisky" and "over-taxing mental powers". (Apologies to print-disabled readers - the list is published as an image so you may not be able to read it).
Meanwhile, Thorpe Park's Halloween attraction, Asylum, has been criticised by mental health charities and bloggers this week, who say that it adds to the stigma around mental health problems and insults people affected by them. In their defence, the park said it wasn't intended to be a realistic portrayal.
By the end of the week, it had gone beyond the realm of bloggers and on Thursday an open letter of concern about the attraction was published and signed by the Royal College of Psychiatrists as well as Mind, Rethink, The Lancet Psychiatry, Time to Change and others. As yet, the park has not responded.
The controversy comes just weeks after Asda, Tesco and other stores were criticised for selling a "mental patient" fancy dress horror costume.
Flowy is a new addition to the growing number of mobile apps which act as a fun middle-man between you and painful life stuff.
The set of mini-games from Playlab London is designed to help people in the grips of a panic attack by leading them through breathing exercises.
Simon Fox, creative director at the company, has a "panic disorder" himself. He tells Wired UK that each game is designed to last between five and 15 breaths. Players press one button when they inhale and another when they exhale.
"The games translate a user's breath into a two-dimensional world," says Fox. "It is used to blow boats around, motivate kittens and power up robots."
Research into how effective the app could be is already underway, in conjunction with medical professionals.
Gold medal-winning Paralympian Hannah Cockcroft is 21 and still studying, when not speeding round a track in her racing wheelchair.
Hannah has just started a weekly show on Source Radio, Coventry University's student radio station. Her music and chat show is broadcast every Thursday, 1600-1800. Tune in and see whether she's a rival for Eddie Mair or Simon Mayo...
There are lots of great things about Braille books, such as how they feel under the fingers, and being able to read them in the warmth under the bedclothes.
But a serious disadvantage is their size. The average full-length novel is spread over several volumes, each one much bigger than a printed hardback - think encyclopaedia size.
Partly due to the size and storage difficulties, people are more likely to borrow Braille books from a library than own them. In the UK, the RNIB sends them to readers by post, two or three volumes at a time, in a strong denim bag secured by Velcro.
Last week The Luminaries - an 834-page doorstopper of a novel - became the longest-ever book to win the 2013 Man Booker prize.
When its pages are converted into Braille, it's even longer. After producing its edition, the RNIB tweeted this week: "Congrats to Eleanor Catton for winning the #bookerprize - the longest book ever to win equates to 15 vols of Braille!"
Posties beware.
Follow @BBCOuch on Twitter and on Facebook, and listen to our monthly talk show