Access all areas: The disability-friendly rock festival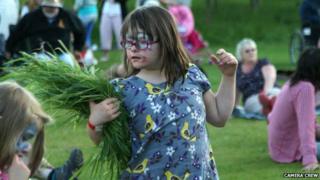 So-called relaxed performances at theatres and cinemas are a welcome innovation for families with a disabled member who finds it difficult to be silent. One Yorkshire couple are taking accessibility even further, with a disability-friendly music festival.
"Many mainstream events make concessions and allowances for disabled people," says Caroline Sutton, who runs the festival in Ilkley with her husband Richard. The inspiration for their accessible event came from speaking with families they'd met since having a disabled child.
Both long-time fans of live music events, the Suttons call their festival Disability Rocks.
As well as the expected accessible toilets and ramps, there is a sensory tent, changing facilities for adults and children, the space to spread out on the ground, as well as designated quiet areas for those who get sensory overload.
At mainstream rock festivals, it's noisy and very crowded. Caroline knows the feeling of needing a space where you can just be yourself and have fun without worrying about what others might consider anti-social.
"If their child has a meltdown in the supermarket, parents get looks from staff and customers implying that they are not a good parent or that their child is badly behaved," she says.
"If someone does the same at Disability Rocks, no-one bats an eyelid."
Many families with a disabled member feel a day out is impossible or "not for them" but the little extras at this festival are designed to make it more achievable.
One supportive touch is a team of 60 expert volunteers, known as Helping Hands, who mingle like the Olympic Games Makers ready to help where needed.
"The volunteers push wheelchairs, help with directions and round up runaways," explains Richard. When families get settled, it can be disruptive to move. He says: "The volunteers will fetch food and drinks for groups and help out with toilet trips."
The event features local bands, singing - accompanied by Makaton sign language - and DJ workshops. There is also a disabled comedian, Francesca Martinez.
Disability Rocks is funded through ticket sales, stall fees and grants, including one from the Arts Council. It's the second year for the festival. Last year drew a crowd of 750.
"While mainstream access at events is great," says Caroline, "families sometimes feel more relaxed when disability is the rule, rather than the exception."
Disability Rocks takes place on Saturday 8 June at Nell Bank in Ilkley, West Yorkshire.