Dutch millers protest at mass tourism
By News from Elsewhere...
...as found by BBC Monitoring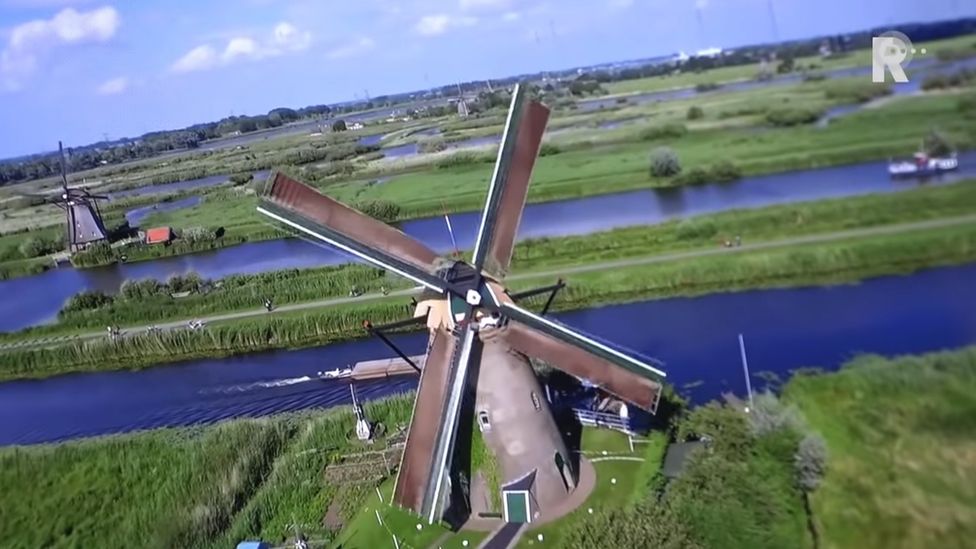 People living in a group of 18th century windmills have found a novel way of protesting at the scale of tourism in their Dutch village.
The millers of Kinderdijk have been handing out postcards with a welcome message and historic picture on one side and a message in English on the other saying: "Thank you for your visit. We've lived here for centuries. We get 600,000 tourists a year, and there are 60 of us. Ratio 10,000: 1 #overtourism," local broadcaster RTV Rijnmond reports.
The 19 windmills of Kinderdijk near Rotterdam, one of the country's top tourism spots, are listed as a national monument and UNESCO World Heritage site. The surrounding low-lying fields are protected by the European Union's Natura 2000 environmental programme.
The windmills were built to help drain water from the surrounding low-lying fields, and some of them are still used for this purpose, but the village now lives off tourism.
The local people are keen to make the point that they welcome visitors, but are concerned at the impact. "We are happy with the tourists, they bring in the money that helps to maintain our buildings, but this is too much," Kirsten Wensveen told RTV Rijnmond.
The polite postcard campaign has had an impact on tourists, with some telling the TV channel that they were "surprised" to find out that people actually live in the windmills. One visitor sympathised that it "must feel like living in a zoo".
Peter Paul Klapwijk says his fellow-villagers are also unhappy with what they see as a lack of consultation by the Kinderlijk World Heritage Foundation that runs the site.
"In the past year, for example, a new cruise boat has started sailing past the windmills, and the Foundation has extended public access hours without discussing it with us. Sometimes it feels like people are sitting right there in your living room," he complains.
The Foundation says the millers have skipped recent monthly consultation meetings, but Mr Klapwijk countered that the site managers "don't involve us, they just tell us about plans that have already been made, so no one shows up".
You may also be interested in:
In between handing out postcards, Anja Noorlander warned Molenwaard local council that "with elections coming up, we want to make it clear that 600,000 visitors are the absolute maximum".
The villagers also want the council to ensure they have a greater say in the Foundation's planning system.
They have had some success will their complaints about quality of life, as Molenwaard council now makes people apply for permission before using drones to photograph the windmills, "in order to protect the privacy of our inhabitants and of our wildlife".
Concern about the impact of mass tourism is not new in the Netherlands. Last year, a picturesque collection of old towns near Amsterdam issued a good conduct guide to try to make life easier for locals.
They asked visitors not to drop litter or wander through private gardens, and to ask permission before photographing people.
Reporting by Martin Morgan
Use #NewsfromElsewhere to stay up-to-date with our reports via Twitter.